Published on
Alternative assets have been playing an increasingly strategic role in high-net-worth portfolios in the last five years. In fact, roughly a third of the assets reported on Addepar today are alternatives. During this week's Office Hours, we covered best practices for tracking and reporting on private assets. 
We were joined by Alex Ruiz, head of client reporting at GenTrust, LLC. Alex shares real-world insights into how GenTrust leverages technology to save time and drive meaningful conversations with clients about their portfolios. 

Here are a few key takeaways from the webinar: 
To ensure timeliness, work directly with a fund administrator
GenTrust works with fund administrators to get prompt updates on the valuations of their clients' investments. According to Alex, liaising directly with fund administrators saves a tremendous amount of time as it cuts out the custodian middle-man. This helps the GenTrust team reduce their turnaround time and design efficient workflows for their clients, making each conversation that much more impactful. 
Leverage technology to streamline data entry
Furthermore, utilizing Addepar's Import Tool allows the GenTrust team to scale quickly and efficiently. By designing and saving import templates within Addepar, their team can streamline data entry and dedicate efforts to more strategic tasks. According to Alex, the ability to work seamlessly with such large volumes of data helps GenTrust easily view a complete performance picture. 
"Working with Addepar's import tool makes working with large data sets much more scalable and efficient"

Alex Ruiz, GenTrust LLC
Provide highly customized performance reports for illiquid portfolios
When it comes to reporting on alternative investments, the GenTrust team has a customized approach for each client. Given recent market volatility, it is even more important to deliver personalized reports for each client, taking current concerns and preferences into account. Alex prefers to break down the performance of his clients' investments using Addepar's reporting templates and graphing functionality. These capabilities give him a sense of how alternative assets align with investors' liquid investments. Modeling alternatives in the context of your clients' entire portfolio is imperative. It helps to accurately represent a portfolio's risk profile, track against target allocations, and see holistic performance and flows.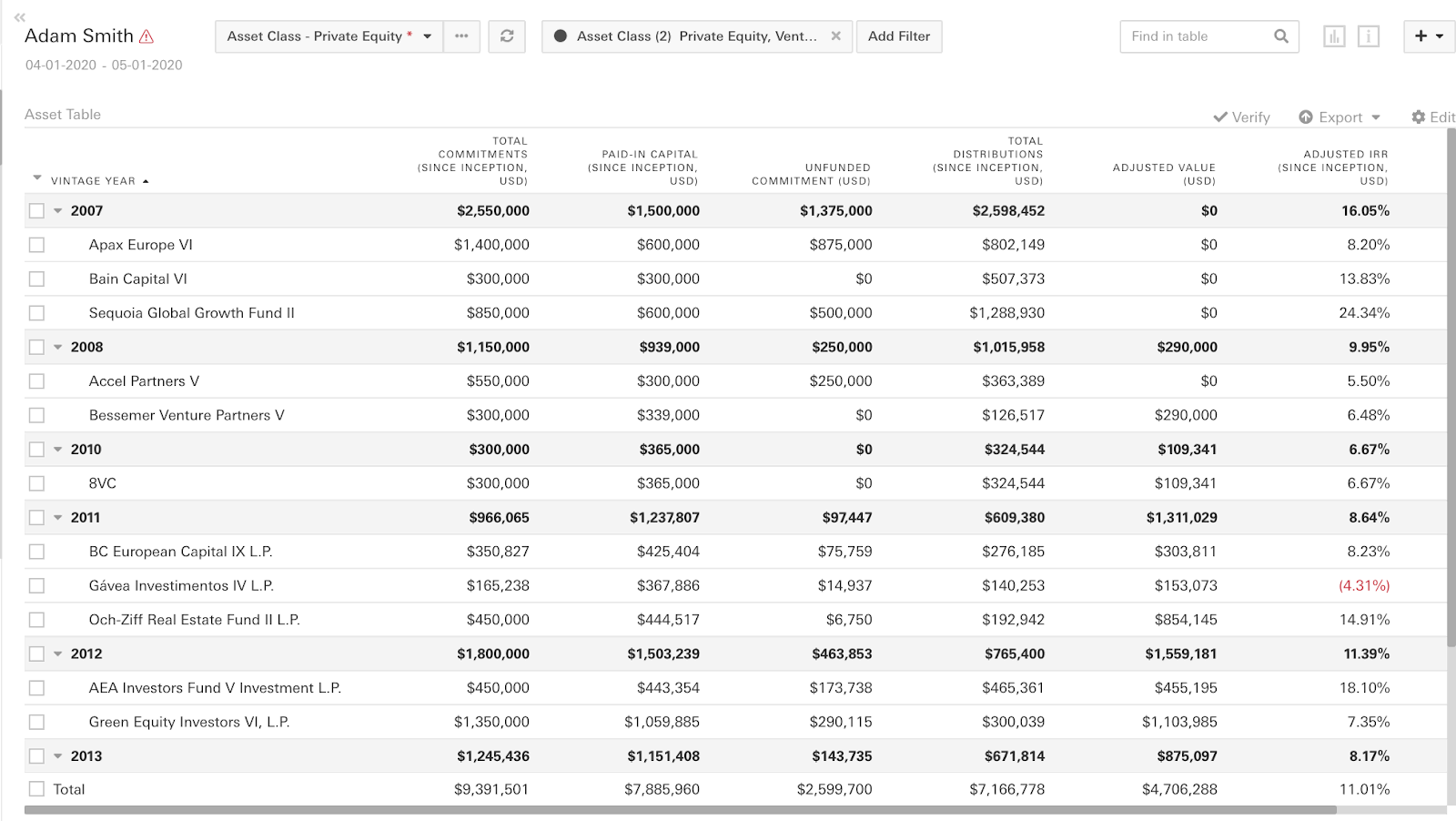 Snapshot view of how alternatives are created and tracked on Addepar
As you continue to navigate this ever-changing landscape, please know that we're here as a resource for you. Please let us know what you'd like to learn more about. You can get in touch with us at community@addepar.com or on Twitter and LinkedIn.