Published on
Inside Addepar is a monthly round-up of Addepar platform updates, research insights and client, partner and company news. 
In February, we gained additional insight into the latest market moves in our Investor Sentiment Index and Q4 2022 Secondary Market Pricing Scorecard. We're debuting a new portfolio search bar in Analysis and Reporting and offering Addepar users access to the Global Industry Classification Standard (GICS®). You'll also learn about new product integrations, upcoming Community events and hear how multi-family office Attinger leverages Addepar for cash flow modeling and projections. Read on to learn more. 
Product Updates
Portfolio search
We recently introduced a new search bar to improve the search experience in Analysis and Reporting. This feature makes it easier to find portfolios, groups and contacts within the platform. The search bar includes shortcuts and filters, and it allows users to see partial matches in search results.
Additionally, the option to create entities is now adjacent to the search bar, optimizing screen space and providing a single place to add entities, transactions and more.
Analysis and Reporting search bar
Global Industry Classification Standard (GICS®)*
The GICS methodology is widely accepted as an industry analysis framework for investment research, portfolio management and asset allocation. GICS supports the trend in sector-based investing, allowing market participants to easily examine and compare the sector and industry makeup of nearly any portfolio or market worldwide. The addition of GICS data provides new ways to leverage Addepar's flexibility to examine equity portfolio data from every angle. 
Users can use GICS to:
Capture and assess the impact of global, regional or local industry trends on portfolios 

Compare and report on industry sector exposures versus peers

Analyze sector and industry contributions to portfolio performance

Enhance client reporting

GICS is a four-tiered, hierarchical industry classification system that is based on a company's principal business activity.
Addepar clients can review the Release Notes for details on our latest product updates. Not a client? Reach out to our team at bd@addepar.com for more information.
Research & Insights
The Addepar Investor Sentiment Index is a transactions-based index of high- and ultra-high-net-worth (U/HNW) investor sentiment derived from U.S. equity transactions captured on the Addepar platform. January's key observations include:
Headline sentiment was slightly bullish at 0.6

Net trading activity was near historic lows with investors staying on the sidelines as markets rallied

Investors rotated into communication services and consumer cyclicals while rotating out of technology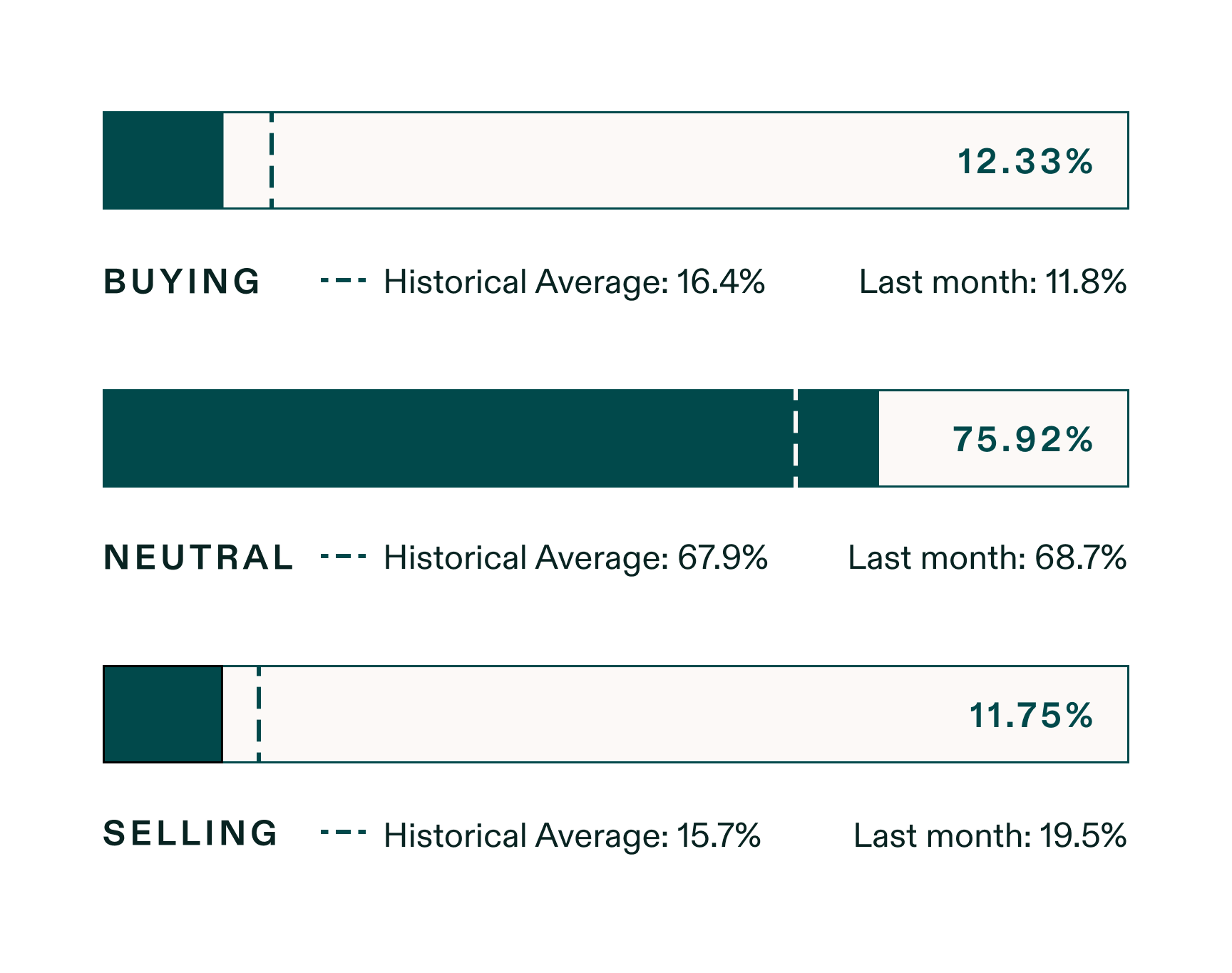 Click here for more information on how the Investor Sentiment Index is calculated and check out other key insights from the Addepar platform.
Marketplace
Marketplace** is a digital investment platform built for Addepar clients that offers a professionally curated menu of investment opportunities and solutions across private markets. 
Our private company desk recently released the latest Secondary Market Scorecard, which highlights what our team saw in Q4 2022 and heading into 2023. 
According to the report, the secondary market seems to have found a bit of footing with more generally accepted clearing prices for certain issuers. Compared to the majority of 2022, in recent months the desk has seen active sellers adopt more realistic price expectations ranging from 25% to 75%+ discounts in some cases. They've similarly noticed a parallel uptick in investors interested in selectively deploying capital into compelling opportunities at these levels.
Marketplace is offered through Addepar's affiliate broker-dealer, Acervus Securities, member FINRA/SIPC. To learn more about the private market capabilities in Marketplace or activity across the secondary market, contact placements@acervussecurities.com. 
What's Happening Around the Addepar Community
See how other firms in the Addepar Community are managing continued market volatility and utilizing key features and integrations available on the Addepar platform:
Integrations update: We're excited to announce new integrations with VRGL, Pontera, and Opto Investments. You can learn more about our integration partners, explore technical details, and review implementation and onboarding tutorials in the Addepar Integration Center.

Addepar in person: We're looking forward to our first community meetup of the year on March 1, 2023 in Los Angeles, CA. Register here to join us for product presentations, idea sharing sessions and networking with the Addepar community in Southern California.

Navigator in action: Navigator Product Specialist Lindsay Auer recently spoke with Attinger, a multi-family office managing $600 million in assets, about how they're leveraging Addepar's Navigator to model cash flows and communicate portfolio projections. Watch the replay here.
Company Updates 
Learn how Addepar empowers smarter investment decisions
About Addepar
Addepar is a software and data platform that is purpose-built for professional wealth, investment and asset management firms to deliver outstanding results for their clients. We're helping our clients unlock the power and possibility of more informed, data-driven investing and advice. Our platform was created to empower investment managers to make data-driven and more confident investment decisions, and to clearly see how assets are performing and where they might be exposed. Most recently, we've expanded our capabilities to include Navigator for scenario modeling and AdvisorPeak Trading & Rebalancing to address portfolio drift.
*The Global Industry Classification Standard (GICS®) was developed by and is the exclusive property and a trademark of Standard & Poor's Financial Services LLC ("S&P") and Morgan Stanley Capital International Inc. ("MSCI").
**Marketplace and its brokerage services provided by Acervus Securities, an Addepar company and SEC-registered broker-dealer and member FINRA/SIPC. This article, and any attachments, is not an offer, or solicitation of an offer, to buy or sell any security or other product.