Published on
Inside Addepar is a monthly round-up of Addepar platform updates, research insights and client, partner and company news. 
In July, we're sharing the latest market moves in our Q2 2023 Secondary Market Pricing Scorecard and introducing new product updates, which include scheduling for daily reports and customizable charts in Navigator. The Addepar Research team published a new report about elevating investment memos and enhancing performance. Read on to learn more.
Product Updates
Schedule daily reports
Clients can now use a single schedule to run daily reports, rather than a separate schedule for each day of the week. The daily report feature adds a "Daily" option to the report scheduler, so you can easily run reports every day without manual workarounds.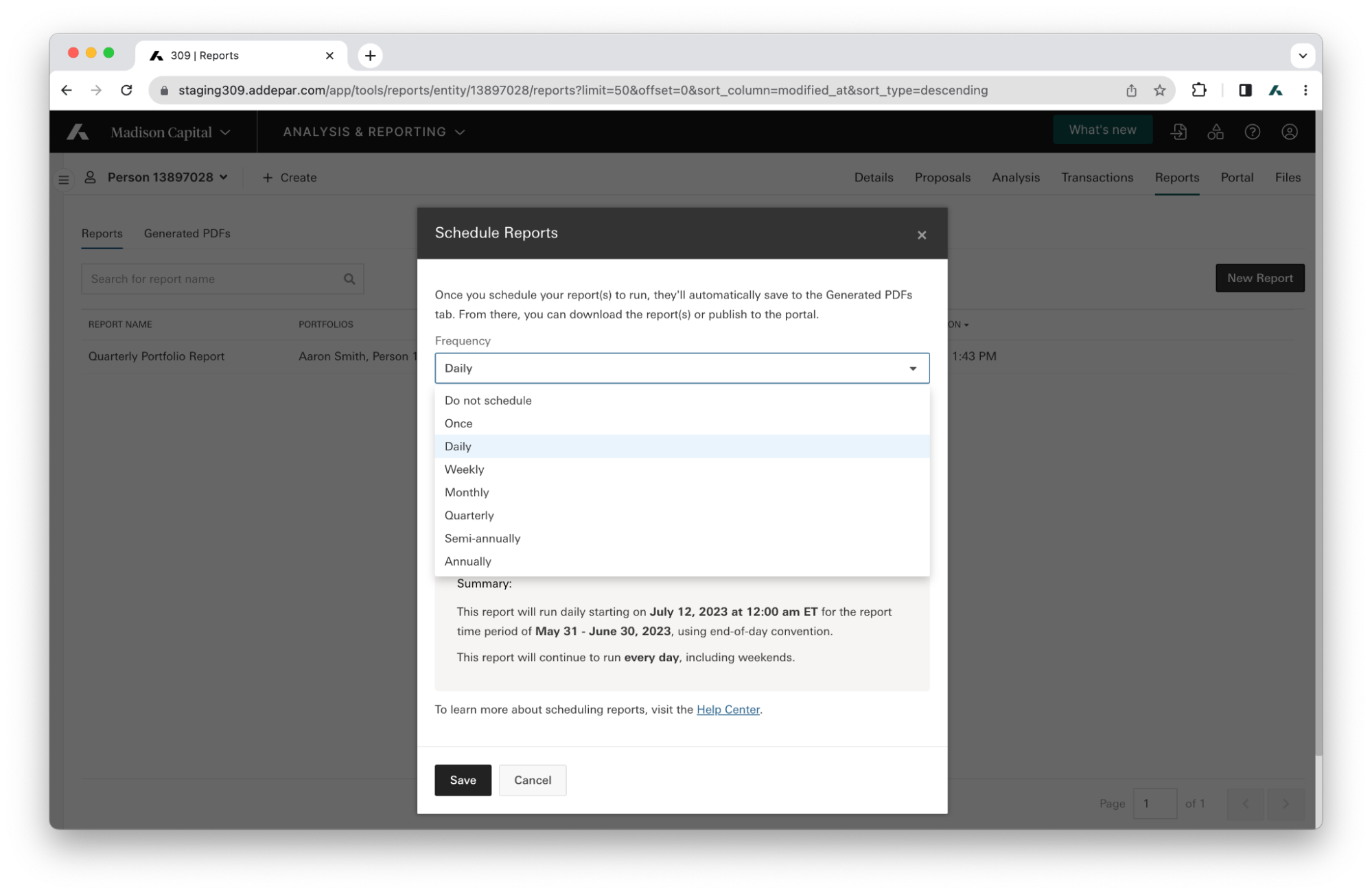 Schedule reports to run daily
Navigator: Customize chart colors
Navigator, Addepar's portfolio projection tool, allows an investment manager to understand what a portfolio might look like in the future based on expected returns and cash flows. Now, users can customize Navigator chart colors to their preferred specifications to match their firm's branding and align with their other Addepar reports.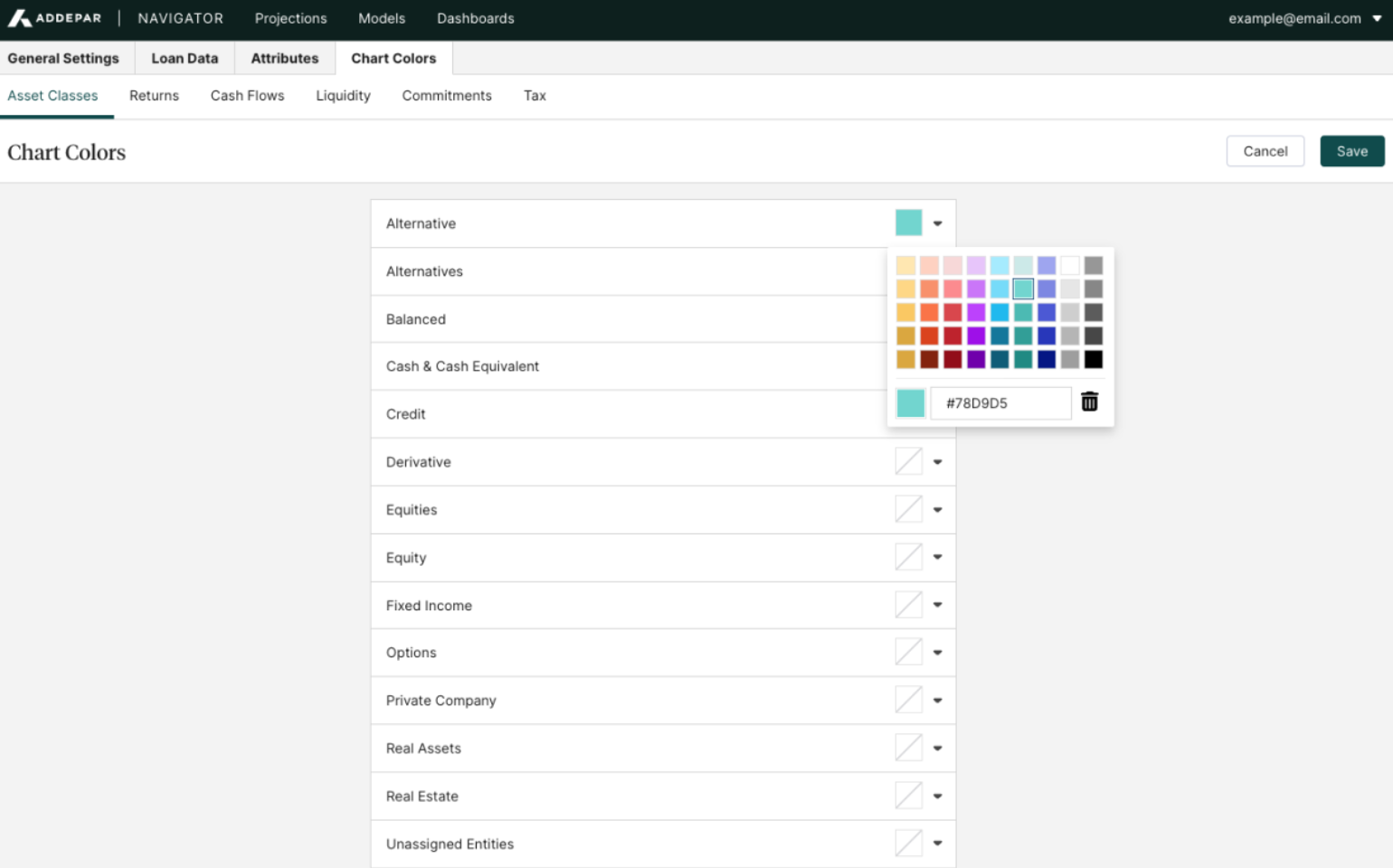 Customize Navigator chart colors
Addepar clients can review the Release Notes for details on our latest product updates. Not a client? Contact our team at bd@addepar.com for more information.
Marketplace
*Marketplace is a digital investment platform built for Addepar clients that offers a professionally curated menu of investment opportunities and solutions across private markets. 
Our private company desk recently published the latest Secondary Market Scorecard covering insights from Q2. In the report, you'll find commentary on current market conditions across the secondary market, late-stage private funding and the evolving IPO landscape. 
Marketplace is offered through Addepar's affiliate broker-dealer, Acervus Securities, member FINRA/SIPC. To learn more about the private market capabilities in Marketplace or activity across the secondary market, contact placements@acervussecurities.com. 
Research & Insights
Investment memos are a critical part of most investment processes. In fact, 97% of the professional investors we surveyed use memos to assess new opportunities, yet there's practically no published research on best practices for writing and using memos given their largely confidential nature. By building on client surveys and case studies, this Addepar Research report shares new methods to improve investment memos and enhance performance. 
Reach out to the Addepar Research team at research@addepar.com to recommend ideas for future research. Addepar clients can register for access to Addepar Research here. 
What's Happening Around the Addepar Community
Company Updates
Learn how Addepar empowers smarter investment decisions
About Addepar
Addepar is a software and data platform that is purpose-built for professional wealth, investment and asset management firms to deliver outstanding results for their clients. We're helping our clients unlock the power and possibility of more informed, data-driven investing and advice. Our platform was created to empower investment managers to make data-driven and more confident investment decisions, and to clearly see how assets are performing and where they might be exposed. Most recently, we've expanded our capabilities to include Navigator for scenario modeling and AdvisorPeak Trading & Rebalancing to address portfolio drift.
*Marketplace and brokerage services are provided by Acervus Securities, an Addepar company and SEC-registered broker-dealer and member FINRA/SIPC. Acervus Securities, Inc. is not acting as a municipal advisor and the opinions or views contained herein are not intended to be, and do not constitute, advice within the meaning of Section 975 of the Dodd-Frank Wall Street Reform and Consumer Protection Act. This website is for informational purposes only.  It is not intended as an offer, or solicitation of an offer, to buy or sell any security or other product. The information provided is subject to change without notice. To learn more about Acervus Securities investment business, products and services, as well as our relationship with you, please review our Acervus Securities Form CRS. For additional information please visit our disclosure page.