Published on
Inside Addepar is a monthly round-up of the latest updates to the Addepar platform; insights from our proprietary, anonymized and aggregated data set; highlights from our client community; and news about our team at Addepar. 
This month, we're highlighting an important evolution for Addepar's Salesforce integration, updates to our analysis tool, September's investor sentiment derived from U.S. equity captured on the Addepar platform, resources for navigating today's market conditions, and company news.
Product Updates
Sync and view client and portfolio data in Salesforce
Salesforce is one of the leading CRM systems advisors use, ranked third in market share according to a 2021 Kitces Report on advisor tech. Starting October 28th, new capabilities within the Addepar for Salesforce integration will make it even easier for you to view and use client and portfolio data in-the-moment.
Addepar's new two-way data sync will eliminate the need to manually enter client and legal entity information on both our platform and Salesforce. When you create and edit accounts in Sales Cloud and Financial Services Cloud, clients and legal entities will be automatically updated in Addepar. Additionally, users can send firm data, including ownership structure updates, time-weighted return and account balances, directly to Salesforce and view within the app via Addepar's new Performance Widget.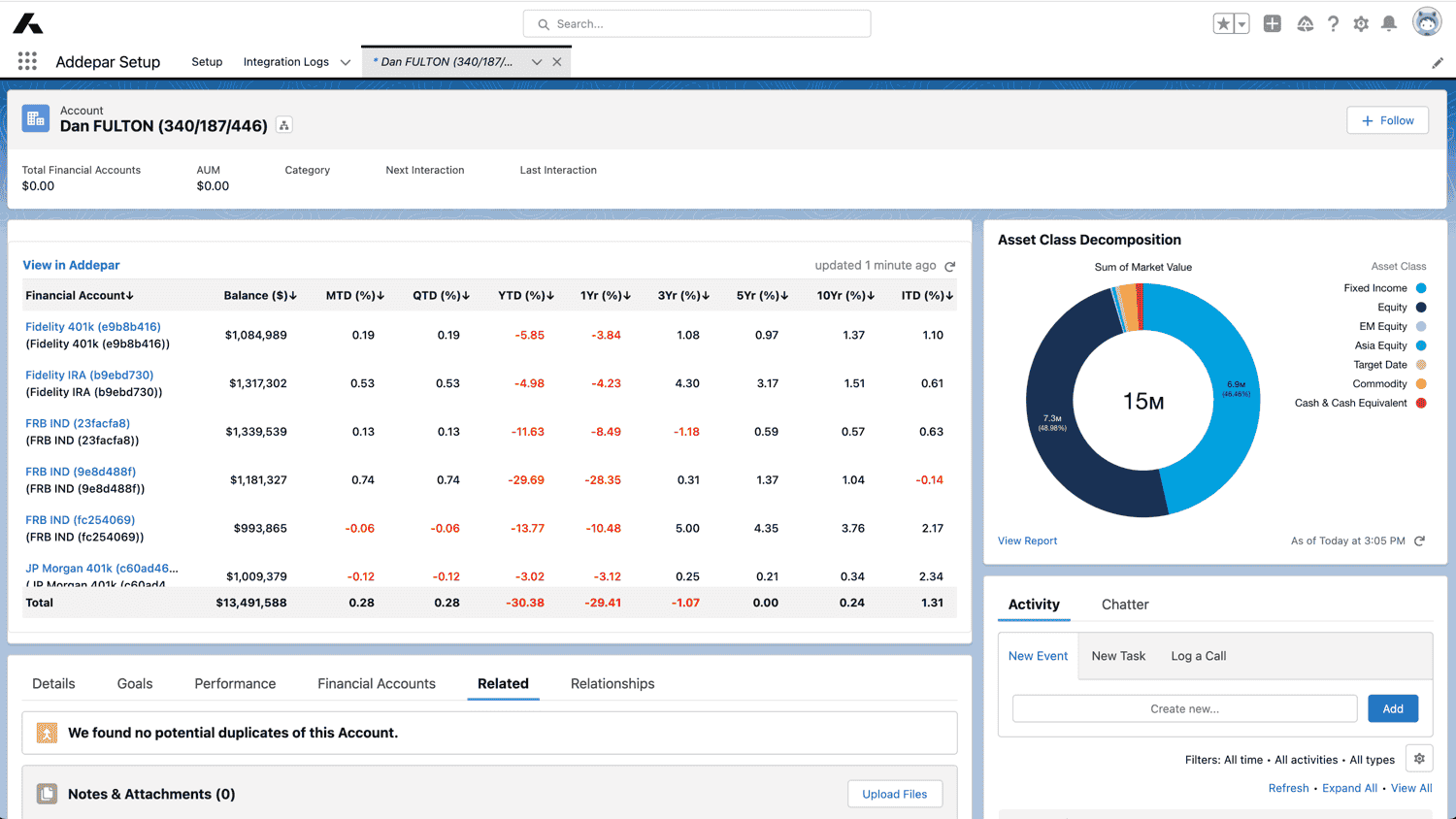 Portfolio data visible in Salesforce includes: financial account, balances, month-to-date (MTD) TWR, quarter-to-date (QTD) TWR, inception-to-date (ITD) TWR and total (A combined balance and TWR).
Access recently-run views instantly in the Analysis tool
Daily tasks just became quicker! When using the Analysis tool, no longer wait for frequently-accessed portfolio information to load after the first time you access it each day. Now, data in a view is stored so that when you return, the view opens instantly, rather than loading all of the data again. This feature will be on by default, but can be turned on or off in the Personal Settings section of the global navigation bar.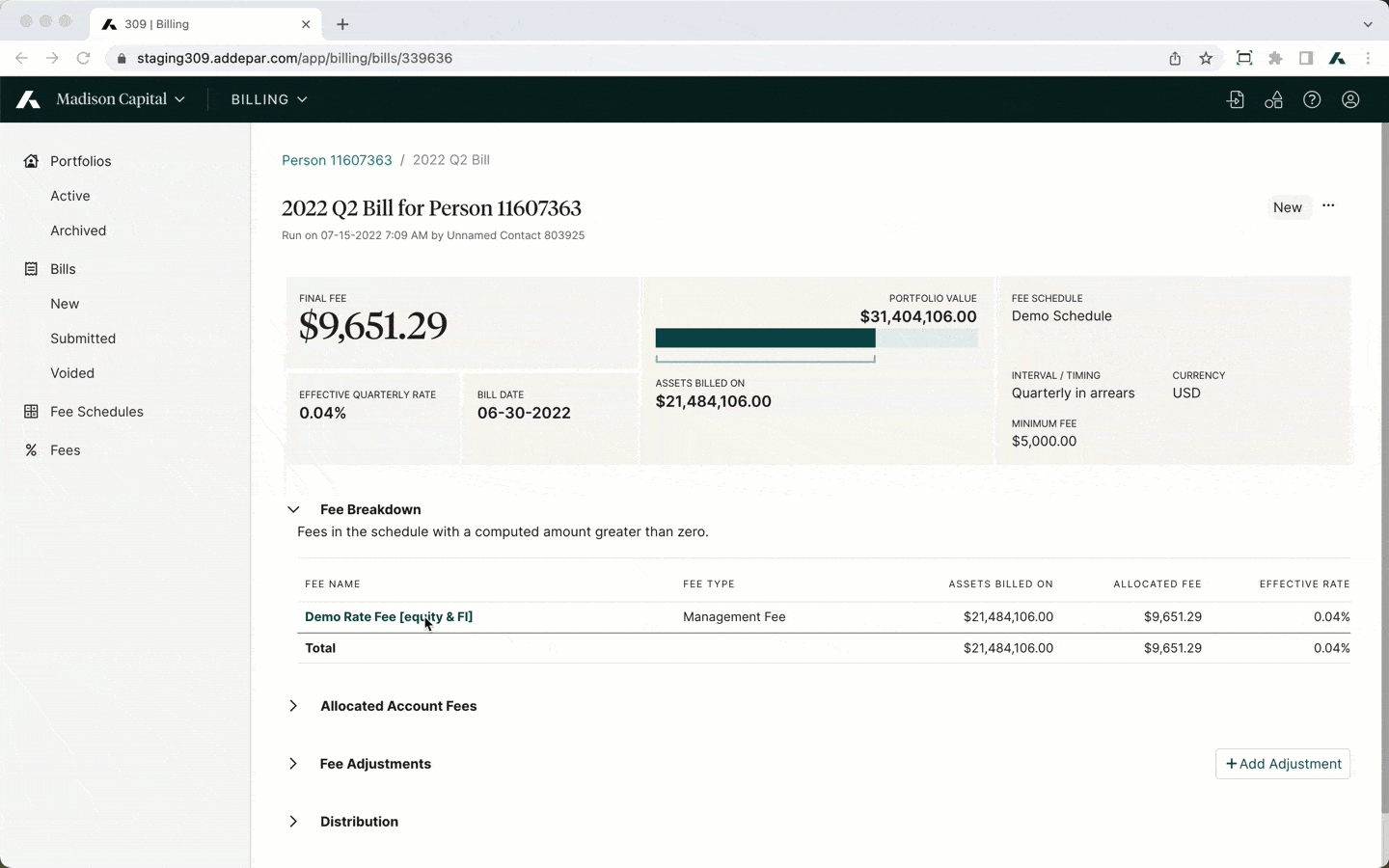 Toggle through a variety of different views quickly and effectively.
Review the Version 2.196 Release Notes for other updates we've made to Billing, Mobile, Navigator and more. Not a client? Reach out to our team at bd@addepar.com for more information.
Research & Insights
The Addepar Investor Sentiment Index is a transactions-based index of high- and ultra-high-net-worth (U/HNW) investor sentiment derived from U.S. equity transactions captured on the Addepar platform. September's key observations:
September headline sentiment reading was bearish at -1.3.

As markets sharply sold-off in September, the percentage of investors trading was significantly below historical levels. 

Investors rotated into defensive sectors including consumer defensive and healthcare while rotating out of financial services and technology.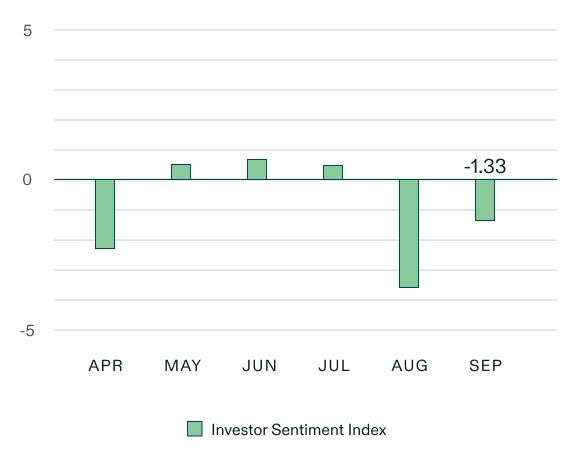 Click here for more information on how the Investor Sentiment Index is calculated and check out other key insights from the Addepar platform.
What's Happening around the Addepar Community
Review our latest content to see how other firms in the Addepar Community are managing continued market volatility and utilizing key features and integrations available on the Addepar platform:
Company Updates 
Addepar was named a finalist in the Most Innovative Technology of the Year category of the Inaugural RIA Intel Awards, which celebrates wealth management's most exciting, creative and influential companies in 2022. What is the single most important change RIAs need to make for the wellbeing of the industry? Find out from Addepar's CEO Eric Poirier in RIAIntel's series: "Three Big Questions."

CB Insights has named Addepar to its annual Fintech 250 for the fifth year running. Fintech 250 is a prestigious list of emerging private companies working on groundbreaking financial technology. 

Meet Juan Sabater, Valor Equity's Co-president and Partner in this Addepar Board Member Spotlight. He shares his take on fintech trends and PE investing over the next 5–10 years.
Learn more about how Addepar can enable you to spend more time delivering value to your clients
About Addepar
Addepar is a software and data platform that is purpose-built for professional wealth, investment and asset management firms to deliver outstanding results for their clients. We're helping our clients unlock the power and possibility of more informed, data-driven investing and advice. Our platform was created to empower investment managers to make data-driven and more confident investment decisions, and to clearly see how assets are performing and where they might be exposed. Most recently, we've expanded our capabilities to include Navigator for scenario modeling and AdvisorPeak Trading & Rebalancing to address portfolio drift.
*Marketplace and its brokerage services provided by Acervus Securities, an Addepar company and SEC-registered broker-dealer and member FINRA/SIPC. This article, and any attachments, is not an offer, or solicitation of an offer, to buy or sell any security or other product.