Published on
Inside Addepar is a monthly round-up of Addepar platform updates, research insights and client, partner and company news. 
In October, we're excited to bring a new automation functionality to Reports, and we are also sharing an update to Data Imports, debuting a new in-app import tool and additional scale. The Marketplace team published their quarterly Secondary Market Scorecard covering data and observations from Q3, and the latest report from Addepar Research explores solutions to reduce investors' inherent biases in investment decision-making. We also share community and company updates, including an upcoming Community Meetup in Miami. Read on to learn more. 
Product Updates
Dynamically hide empty sections 
This update allows you to automatically omit sections from reports when data isn't available. For example, you can hide an alternative assets section for portfolios without alternatives. 
This update eliminates the need to delete empty sections manually. It also makes reports compatible with more portfolios, reduces the time it takes to implement Reporting and makes it easier to maintain fewer reports and section templates. It will also be easier for you to discover which template to use when creating a report. 
Automatically omit sections
Data imports
With this update, you can now import historical prices, target allocations, and estimated returns directly in Addepar. The in-app import tool respects each user's particular permissions, rather than requiring full permissions, and it will replace the Excel-based import tool.
You can also import more data at once, with the ability to include up to 400k rows for transactions, 750k rows for valuations and snapshots, and 1 million rows for attribute imports—respectively 16x, 15x, and 3x more than the Excel plug-in.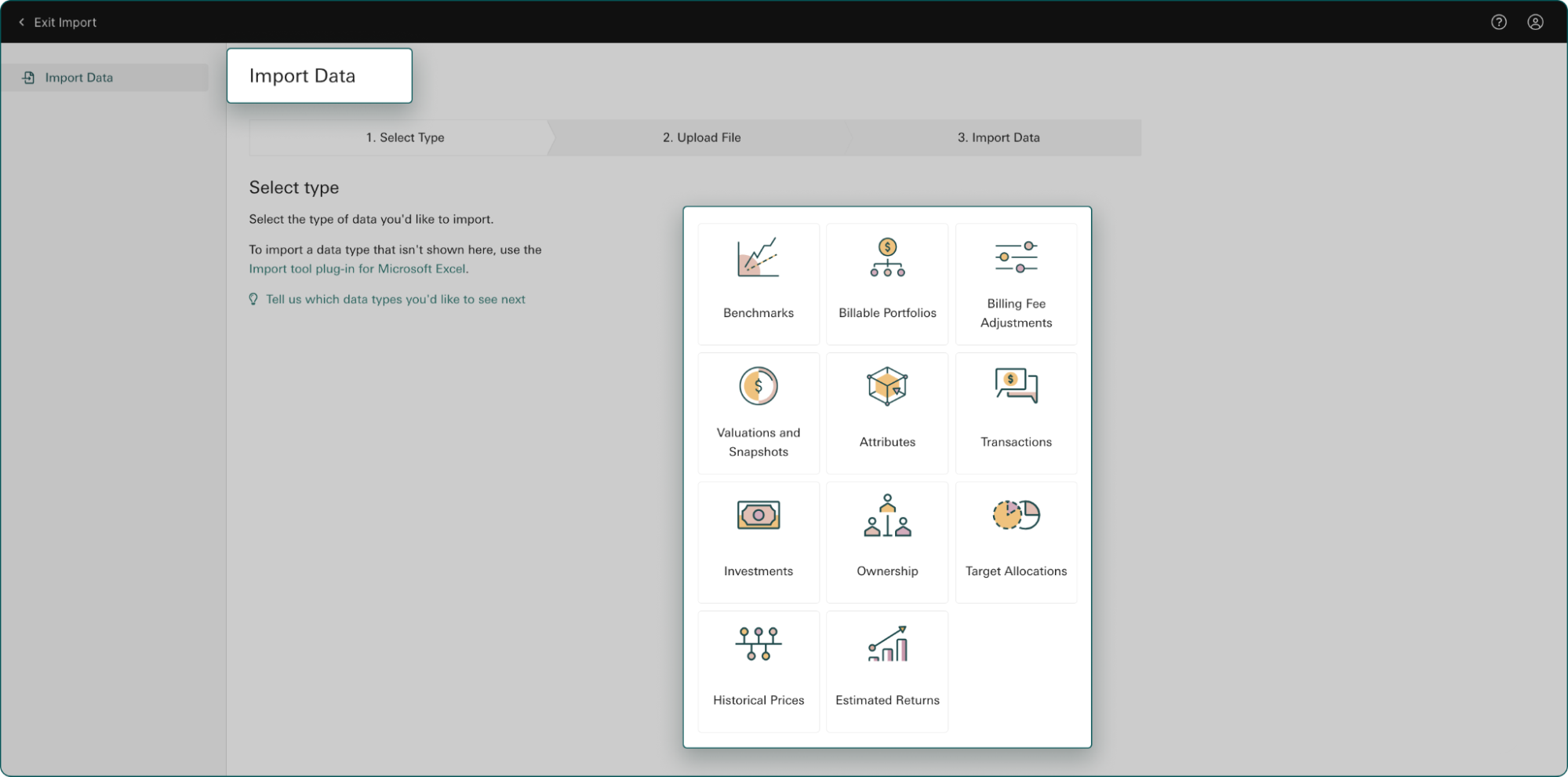 Data import options
Addepar clients can review the Release Notes for details on our latest product updates. Not a client? Contact our team at bd@addepar.com for more information.
Marketplace
Our private company desk recently published the latest Secondary Market Scorecard covering data and observations from Q3. In the report, you'll find commentary on current market conditions across the secondary market, late-stage private funding and the IPO landscape. Notable findings include: 
The secondary market for venture-backed companies continued to strengthen with increased participation at reset price levels

Global late-stage capital invested during Q3 was 9% lower than the prior four quarters' average 

The IPO market built on Q2 activity with notable listings during the quarter
There continues to be ample opportunities for liquidity as the secondary market saw strengthening buy interest from participants for quality companies at fair valuations. While the IPO market showed signs of life in September, traditional exit activity continues to be limited.
To discuss the latest market themes or current opportunities with the Marketplace team, contact placements@acervussecurities.com. Marketplace is offered through Addepar's affiliate broker-dealer, Acervus Securities, member FINRA/SIPC. 
Research & Insights
The latest report from Addepar Research explores solutions to reduce investors' inherent biases in investment decision-making. The paper shares findings from in-depth interviews and case studies on how mindfulness, meditation and other tools can help overcome major cognitive biases that can lead to poor judgment. 
A range of detrimental biases plague investors, including the comfort of confirmation bias, the irrational anxiety of loss aversion, the familiar path of status quo bias, the weight of anchoring bias and the glare of overconfidence bias, among others. Developing a meditation practice allows investors to choose their contexts, mental models and actions with greater awareness and less judgment, thereby overcoming the biases identified by behavioral finance.
Reach out to the Addepar Research team at research@addepar.com to recommend ideas for future research. Addepar clients can register for access to Addepar Research here. 
What's Happening Around the Addepar Community
Addepar in Miami: Join us at the next Addepar Community Meetup taking place in Miami on November 14. These get-togethers are your opportunity to hear from Addepar experts, have your questions answered and share your personal experiences using the Addepar platform. You'll also hear from our Research and Development team on what we are building and why, covering the latest updates about our platform. Space is limited so please register today.

T3 Survey: The annual T3 and Inside Information survey is now open. Share your views about today's technology landscape within the financial advisory space – the results, and a full analysis, will be available to all participants through a presentation at the 2024 T3 Advisor Conference in January.
Company Updates
We're thrilled to share that Abhimanyu Prabhavalkar recently joined the team as Head of Addepar India, leading R&D growth regionally and supporting our global business scale. Read more about Abhimanyu's background and his plans for expansion in Pune, India on our blog.

Congratulations to many of our Addepar clients who are recognized on the annual Forbes list of America's Top RIA Firms! For the second year in a row, our client Evoke Advisors has topped the list. Addepar is proud to support RIAs in their continued success and growth.

This month, we're pleased to welcome BankPlus to Addepar! Founded in 1909 and built on a commitment to community, BankPlus serves consumers and businesses through a full suite of financial services including retail banking, commercial banking, mortgage lending and wealth management.
Learn how Addepar empowers smarter investment decisions
About Addepar
Addepar is a software and data platform that is purpose-built for professional wealth, investment and asset management firms to deliver outstanding results for their clients. We're helping our clients unlock the power and possibility of more informed, data-driven investing and advice. Our platform was created to empower investment managers to make data-driven and more confident investment decisions, and to clearly see how assets are performing and where they might be exposed. Most recently, we've expanded our capabilities to include Navigator for scenario modeling and AdvisorPeak Trading & Rebalancing to address portfolio drift.