Published on
Addepar's AddeU Internship Program's goal is to create a community that attracts new and diverse talent at the university level to contribute to meaningful projects at Addepar. 
AddeU is a twelve-week internship program that has been running for the last two years. This year the internship program had 49 interns from across the U.S., Canada and the U.K.—with over 85,000+ applicants! Interns are exposed to mentorship, senior leadership, professional development, engaging and fun intern events, and much more.
As the 2022 AddeU Internship Program comes to a close, we spoke with a few interns from across the organization to see what they've learned during their time here.
Aashika Mehta
Communications Intern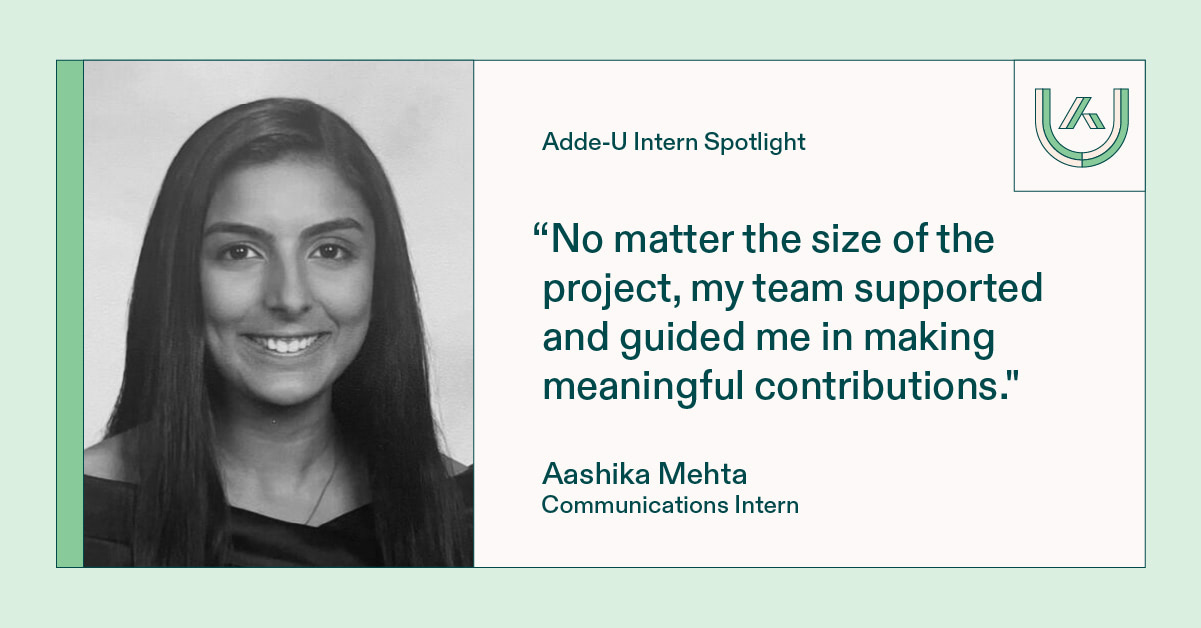 Aashika is a rising junior at Barnard College and is from Princeton, New Jersey. At Addepar, she is working with the Communications and Brand teams to develop a brand and media audit, spearhead a press kit initiative and support internal communications to create a new digital employee experience. 
Hobbies: Dancing and exploring NYC
Favorite Addepar Core Value: Embrace Learning
Macey O'Connor
Sales Enablement Intern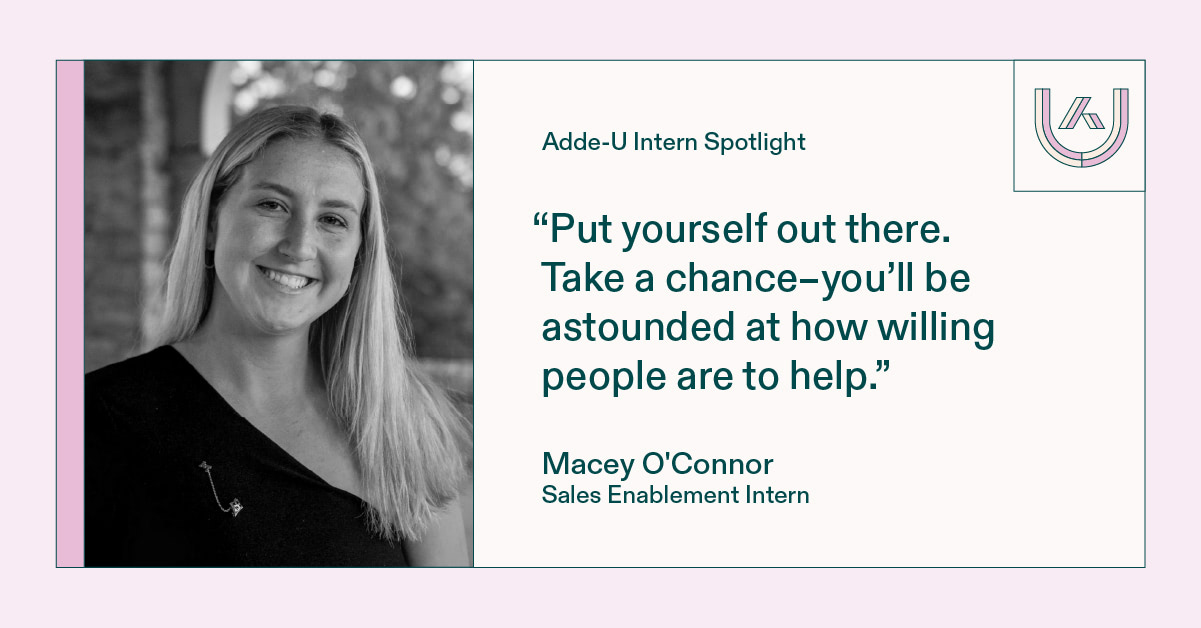 Macey just completed her junior year at the University of Cincinnati and is from Villa Hills, Kentucky. At Addepar, she is working with the Sales Enablement team to spearhead Wealth Management 101, an educational onboarding plan that will equip the go-to-market teams with key industry knowledge.
Hobbies: Trying new foods and traveling
Favorite Addepar Core Value: Act Like an Owner
Naman Ranawat
Software Engineering Intern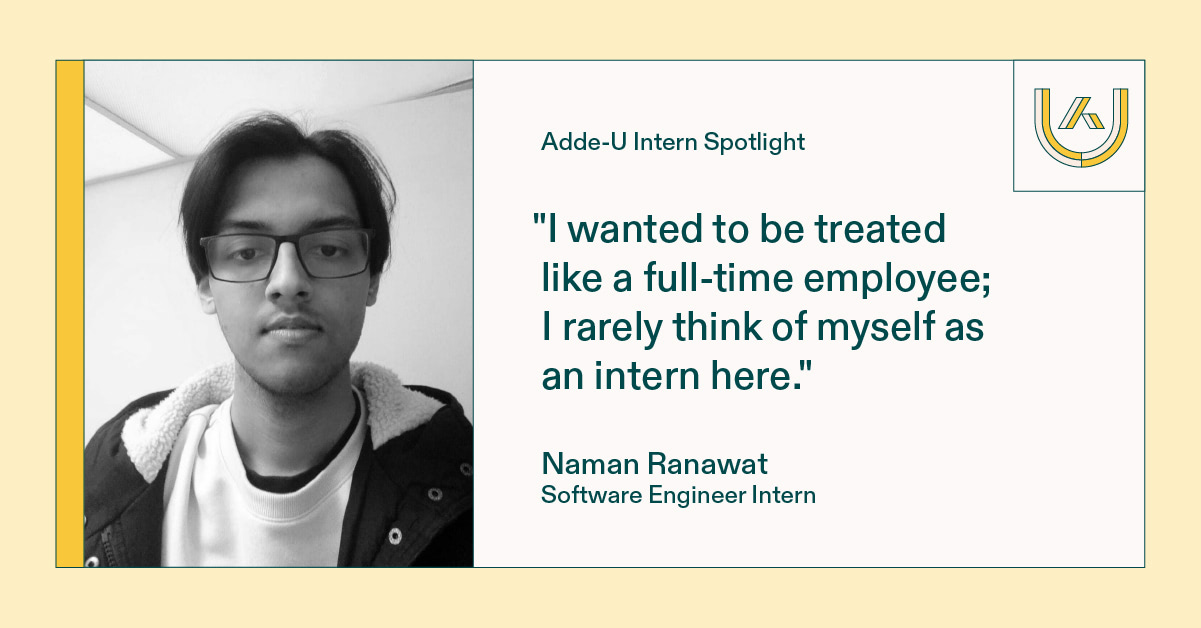 Originally from Mumbai, India, Naman is a rising senior at UMASS Amherst studying computer science. At Addepar, Naman works on the Addepar Product Language team—part of the Engineering team's larger Software Platform division. He is building Addepar Product Language (APL - Addepar's Design System) documentation web application which will aid in increasing user interface coherency, consistency and standardization across all of Addepar's products.
Hobbies: Reading and watching shows
Favorite Addepar Core Value: Act Like an Owner
Kim Schreiber
Content Design Intern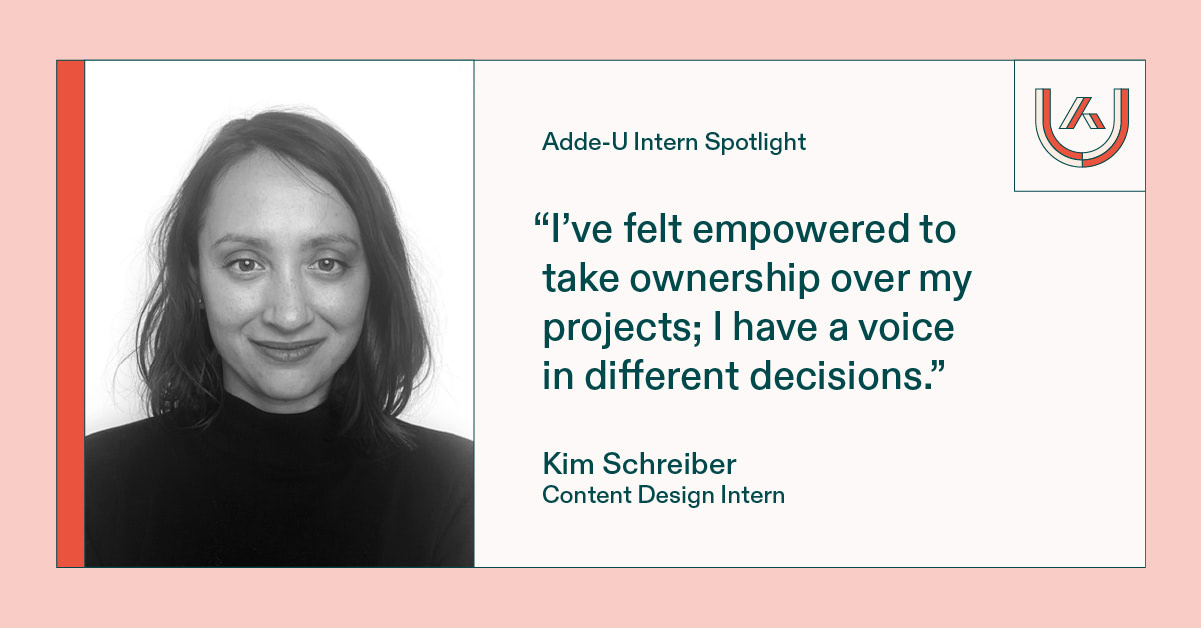 Kim is a PhD candidate at the Northwestern University School of Communication. She is creating content standards for several UI components in Addepar's design system, Addepar Product Language (APL). She is also working cross-functionally to redefine APL's information architecture, collaborating on a redesign of loading indicators, and developing a central repository for content standards user feedback.
Hobbies: Tennis and hiking
Favorite Addepar Core Values: Act Like an Owner, Build Together, Embrace Learning
Natalie Yahnke
Community Marketing Intern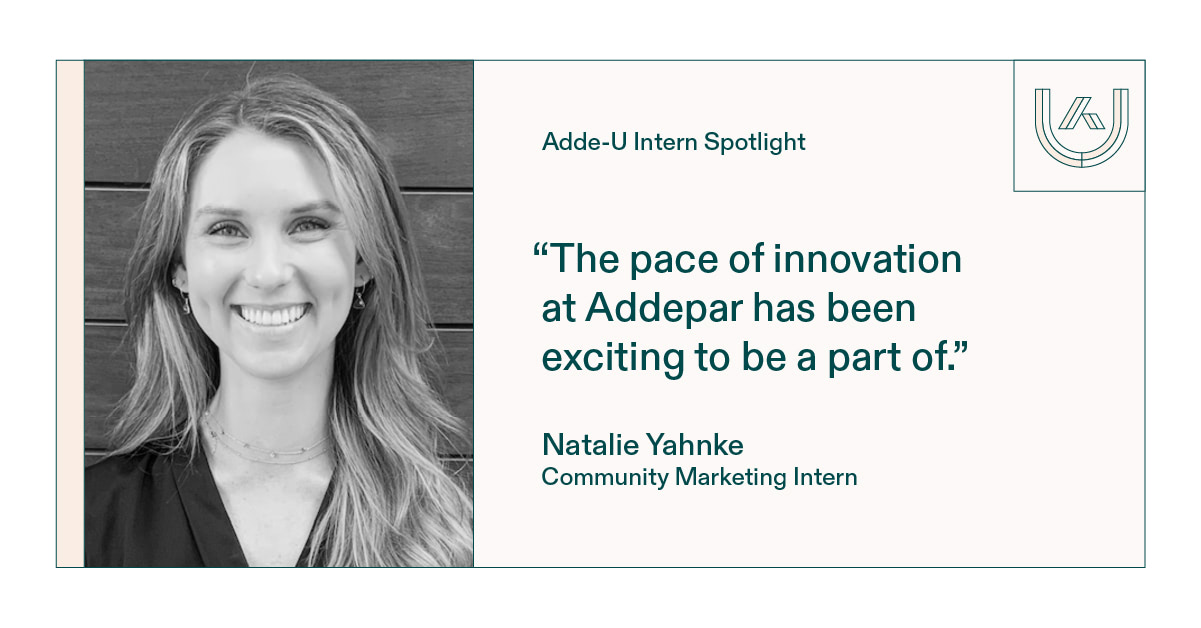 Natalie is completing her MBA in her hometown at the University of California San Diego. At Addepar, she is contributing to a newsletter audit to enhance community engagement, a testimonial optimization initiative and the AddePro certification program, an initiative leveraging client insights for best practices sharing and rewarding Addepar superusers.
Hobbies: Running and baking
Favorite Addepar Core Value: Drive Innovation, Embrace Learning
Tell us about your internship experience at Addepar. 
"I've already completed three internships over the course of my college career and this one stands out due to the autonomy I've had in my work. My supervisor has consistently placed me in the best possible situations to be successful, take on new things and run with them. Everyone is so welcoming and approachable—you can throw time on peoples' calendars and they'll take you under their wing." - Macey O'Connor
"One thing that I really wanted was to be treated like a full-time employee…I almost never think of myself as an intern here. I have the ability and autonomy to make decisions which has allowed me to grow my understanding of the industry." - Naman Ranawat
"I've been really impressed with the fast paced environment. Not only is communication streamlined - if you need to communicate an idea or question, you can do so quickly - but the speed of innovation is exciting to be a part of. I have enjoyed the opportunities to give input and make changes right away." - Natalie Yahnke
How would you describe the culture at Addepar?
"Transparent and open. It's been nice to see our CEO Eric regularly speak about the business and how the company plans to move forward." - Naman Ranawat
"I've felt really empowered to take ownership over my projects and through that, I have a voice in a lot of different kinds of decisions that are being made. I have a seat at the table and I've been able to share what I've learned with other people." - Kim Schreiber
"Welcoming, positive and overall exciting. We are continually seeing the growth of assets on the platform, new hires, new product development—we're poised for even more success in the future. I can't wait to see how Addepar grows." - Macey O'Connor
What is your most memorable moment from your internship experience? 
"I've been invited to present the projects I've worked on to cross-functional teams, which has been really meaningful to me. Each time it has challenged me to connect my work to stakeholders across the organization, and I have understood the impact of my work better as a result. I've left each of these presentations more curious and inspired." - Kim Schreiber
"My most memorable moment from my internship experience was meeting my mentor, Sarah Pugsley, in person for the first time. I'm based in New York and she lives in California, so when she was on vacation nearby, we were finally able to grab a meal together. I've met with Sarah almost everyday throughout my internship and she has been extremely helpful, supportive and compassionate. In person, it felt like I was having lunch with a close friend." - Aashika Mehta
What is your biggest takeaway from your internship experience at Addepar?
"A huge takeaway from Addepar has been self-development, self-improvement and self-learning, both professionally and educationally. Once, my manager reached out to me about an area I was interested in and proactively reached out to a different team to see if there were any opportunities for cross-collaboration. I really appreciated that she prioritized my interests and growth." - Natalie Yahnke
"I've had the realization that my impact can start now—I don't have to build up a resume to do something later. I don't think that could happen without an empowering culture around me. I think that's an illustration of the company culture, it empowers you to make change now and not just talk about it." - Macey O'Connor
"My biggest takeaway from Addepar was feeling like I was making a meaningful impact not only to our team, but to the company as a whole. I've helped compile research and prep materials that would be presented to cross-functional audiences at Addepar, had executive level visibility, and was given the creative freedom to help enhance internal processes. No matter the size of the project, big or small, my team supported me and guided me to make meaningful contributions throughout my internship." - Aashika Mehta
What is one piece of advice for incoming interns? 
"Schedule meetings with people that are working on the things you're interested in. Meet with the people around you. Be willing to learn, because internships are just as much about realizing what you don't want to do as they are realizing what you do want to do." - Natalie Yahnke
"One piece of advice I would offer to future interns is to focus on goal setting. That was really helpful in the beginning of my internship, because there was a lot of terminology I had to learn in order to do my work: not only in the product, but also in content design, tech, and finance languages. It was helpful for me to think about my end goals and intake learnings through what would be most valuable to my project." - Kim Schreiber
"If you have the bandwidth, ask for more opportunities. I've continued to expand my skill set and breadth of knowledge from additions to my workload that I hadn't originally anticipated, or assignments in areas that I was less familiar with. These invaluable experiences have given me a larger perspective on Addepar and the industry as a whole." - Aashika Mehta
"It sounds cliché, but just put yourself out there. If you're interested in what someone is doing, ask them. If you want to be included in a meeting, just ask them. There's a high level of transparency here with the goal of enabling continued learning and growth. Take a chance—I think you'll be astounded by how willing people are to help you." - Macey O'Connor
"Ask questions if you feel like you don't understand something. Oftentimes, we think that we should know something or that it's a silly question, but it's not like that here. Addepar is very supportive, so it's always safe to just ask—everyone around you has multiple years of experience and can help you grow." - Naman Ranawat
Interested in the AddeU Internship Program? Check out our career website in the fall for open Summer '23 internship opportunities.