Published on
Recently, we held our annual National Client Call. It offered a chance to look at our accomplishments in 2019 and what we're working on as we charge into 2020. 2019 marked our 10th anniversary and was a year of exponential growth. We're proud to serve 400 clients to date. 
During this call, our Chief Revenue Officer David Lessing noted, "from our roots in solving the most complex problems for the most complex UHNW investors, we now cover the full spectrum of wealth management clients and advisors. This includes firms with advisors ranging from mass affluent to ultra-high net worth. The commonality advisors using Addepar have is a shared vision of aggregating assets, running best in class analytics on them, and reporting on them in a way that makes sense to you and your clients."
Our annual client call was an ideal time to answer some of our most asked questions and provide clarity around our roadmap. In this post, we're sharing the five top questions we discussed on the call:
1. What is behind your product roadmap strategy?
We aim to align, prioritize and provide insight into our roadmap in real-time (making it more like a GPS system than a map). Our roadmap aligns with the goals and strategy of both Addepar and our clients, summarizes feedback and addresses the needs of both clients and prospects, and provides transparency and trust in our commitment to deliver on it. 
2. What can we expect to come as the Addepar platform continues to develop?
This year, clients can expect several user interface improvements that align with our new brand. We're always committed to delivering value to advisors through innovation. To meet this goal, we constantly develop and test new products and features that will benefit our advisors and their clients. The feedback we get from our users is invaluable in this process.  
A few key themes we are focused on for 2020 are as follows: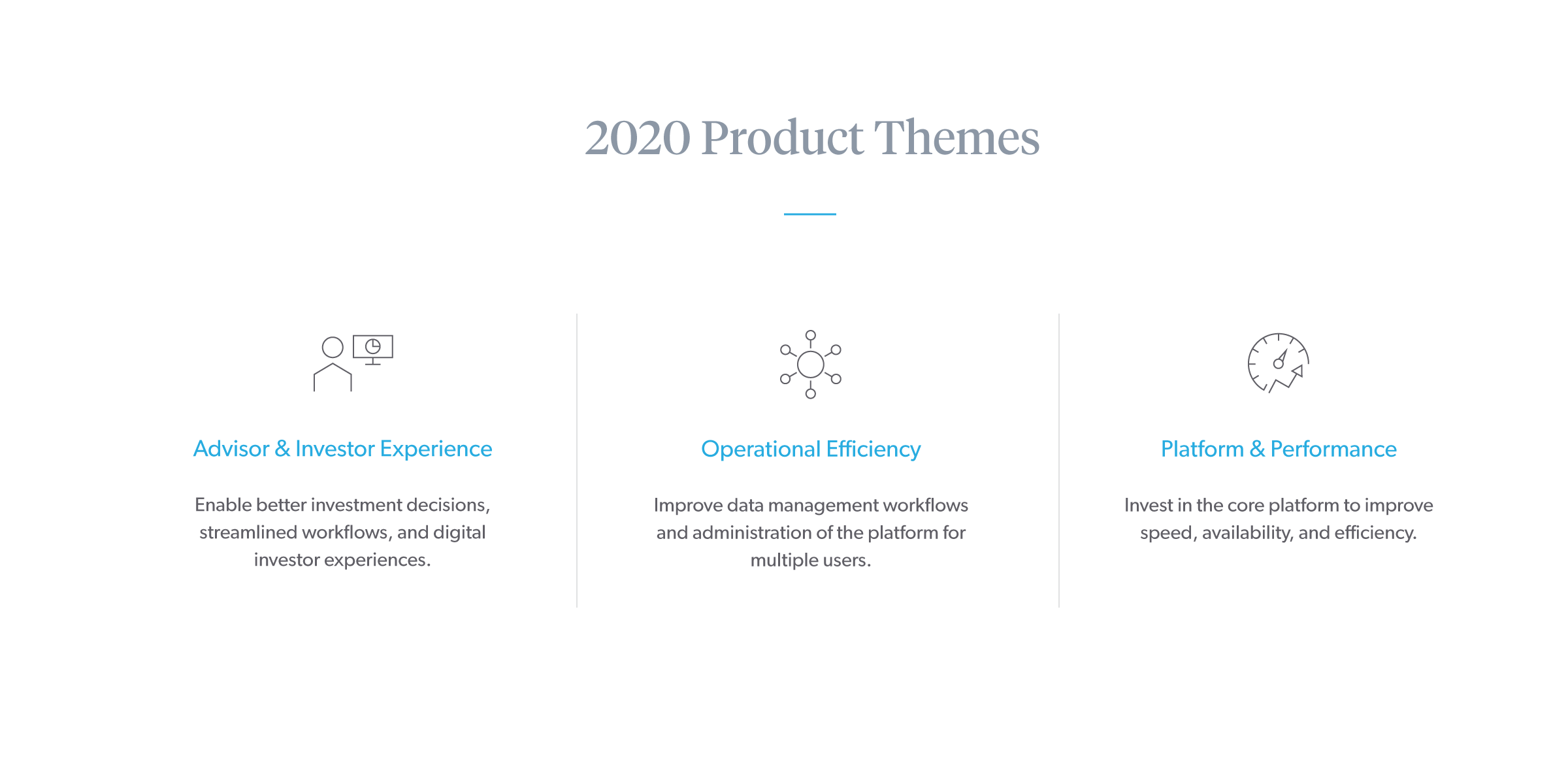 3. What areas are you focused on to make your platform and your client experience even more efficient?
We're focused on improving flexibility around Historical Data Conversions. We want to provide more options for loading in and representing the data that form the building blocks of an investor's portfolio. We're also developing stronger data tooling, especially around onboarding and reconciliation, so that new clients can get up and running on the platform even faster.  
As part of this commitment to improving advisors' access and use of data, Addepar now includes historical data conversion in our standard contract. This enables our advisors to maintain strong records of their client relationships, while accessing new technology that positions them for success in the future. The value of this historical data, and how a shift to Addepar can position advisors and clients for success in the long term, has been a big topic of conversation. David Lessing dove into these points in this AdvisorHub article, "The Next Big Advisor Trend: Democratizing Premier Tech." 
4. What is your philosophy when it comes to integrations?
Integrations are an important piece of our platform. We have a vast ecosystem of technology partners that augment and complement Addepar's functionality. Our dedicated teams spend a considerable amount of time researching client workflows to develop best-in-class integrations. 
Addepar is also committed to customization. We aim to help free up advisors' time so that they can focus on high-value client activities. Our ultimate goal is to grow and serve a developer community with a robust and secure toolkit of best-of-breed tech partners. This move will drive innovation on our platform.
5. What are the services I have access to? 
We provide several levels of service within our platform. Your Account Manager is your first point of contact for commercial and business issues. They can properly direct any question to the proper team of experts. Our Client Success team helps you optimize your workflow through specialized training, analysis and custom reporting tools. Our Support and Data Operations team provides day-to-day technical support and troubleshooting. They also provide data verification, feed development and account onboarding. And finally, our Academy and Online Help Site provides classroom, individual and on-demand video training. They also offer a library of platform knowledge so that you can get the most out of Addepar's features.
Client Takeaways
We're always looking for ways to engage more with our community. If you'd like to receive our client newsletter, attend client meetups, or participate in a case study, reach out to your Account Manager to learn more.