Research → Tech onboarding checklist
Tech onboarding checklist
Your technology and data are key enablers of informed investment decision making, providing context, insight and intelligence that can help improve portfolio performance. In recent years, tech and data have also helped you keep pace with rapidly shifting dynamics – from remote workers to navigating economic shocks. 
Technology is a path to comparative advantage and, as such, proper onboarding and application of technology is a critical component of investment management. 
Our data uncovered four indicators for success
Looking back at 10+ years of data, our researchers identified the most frequent onboarding and utilization challenges our clients faced when adopting new technologies. This work, excerpted from a recent report, allowed us to surface four key characteristics to help others minimize disruption and find success. 
The four onboarding success indicators, based on best practices: are 1) organizational readiness; 2) a defined data model; 3) understanding of what data feeds are needed; and 4) user education for those who'll be applying the new technology. The checklist below covers these characteristics in more detail. 
Tech Onboarding Checklist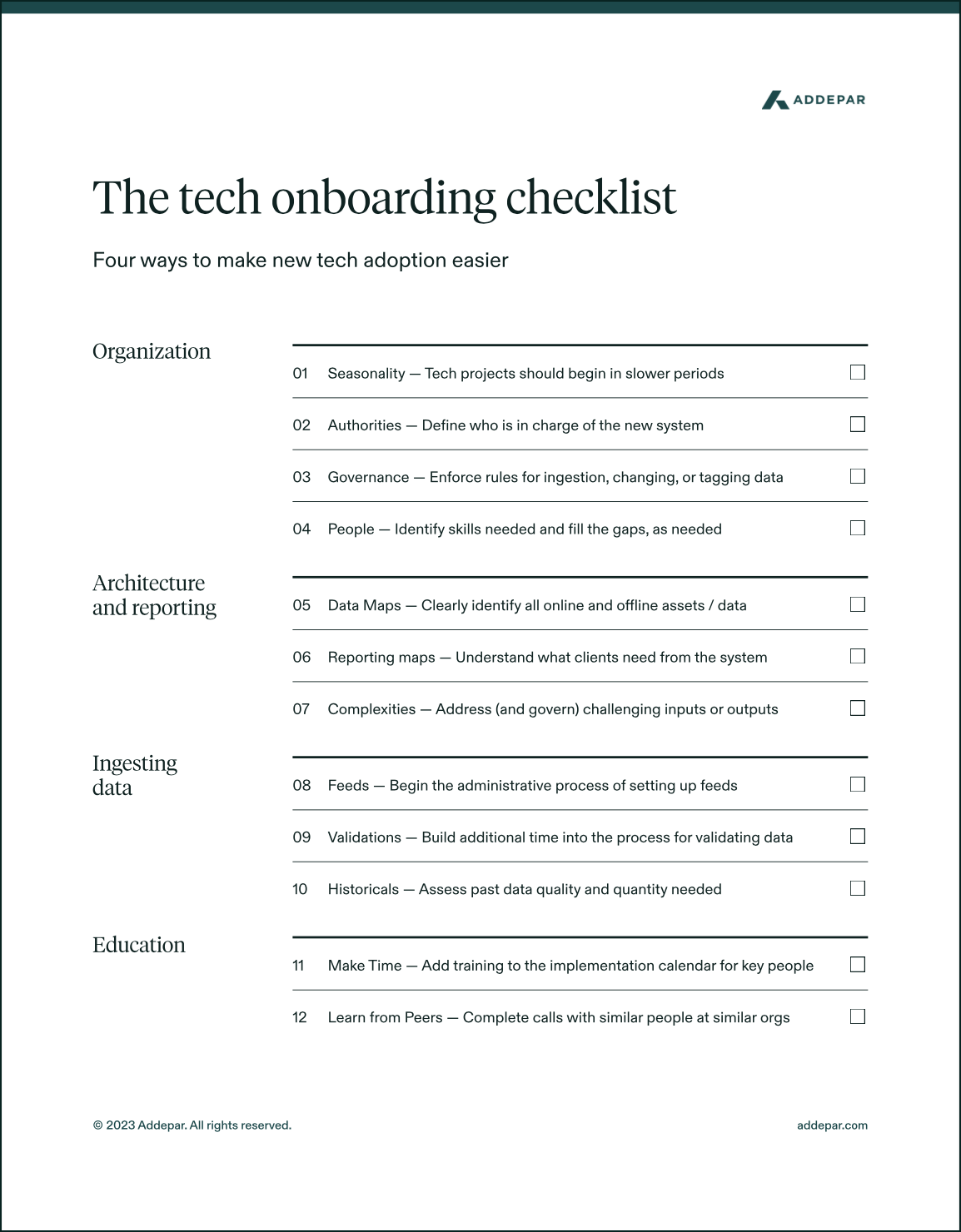 Download and print the checklist here.
Use this framework as a planning tool
Technology is transformative – capable of bringing deeper value to the people and organizations you serve, though best approached with forethought and planning. As you incorporate new and modern technologies into your business model, we hope you find this framework useful as a foundation for technological empowerment. 
Addepar is a software and data platform that is purpose-built for professional wealth, investment and asset management firms to deliver outstanding results for their clients. We're helping our clients unlock the power and possibility of more informed, data-driven investing and advice. Our platform was created to empower investment managers to make data-driven and more confident investment decisions, and to clearly see how assets are performing and where they might be exposed. Most recently, we've expanded our capabilities to include Navigator for scenario modeling and AdvisorPeak Trading & Rebalancing to address portfolio drift.