Published on
Inside Addepar is a monthly round-up of Addepar platform updates, research insights and client, partner and company news.
This month, we're highlighting enhanced chart customization capabilities to uplevel your reports, as well as the beta release of our in-app import tool to more efficiently bring your clients' data into the Addepar platform. The Addepar Research team published a new report on cash management for download, and we recap AddeConf23, Addepar's annual developer conference. Read on to learn more. 
Product Updates
Reporting: Improved Charts
We're excited to unveil new chart features, types, and customization to enhance your reports and better match your firm's branding. We'll begin migrating all legacy charts to new charts on September 22nd and look forward to continuing to release new features and capabilities over the coming months.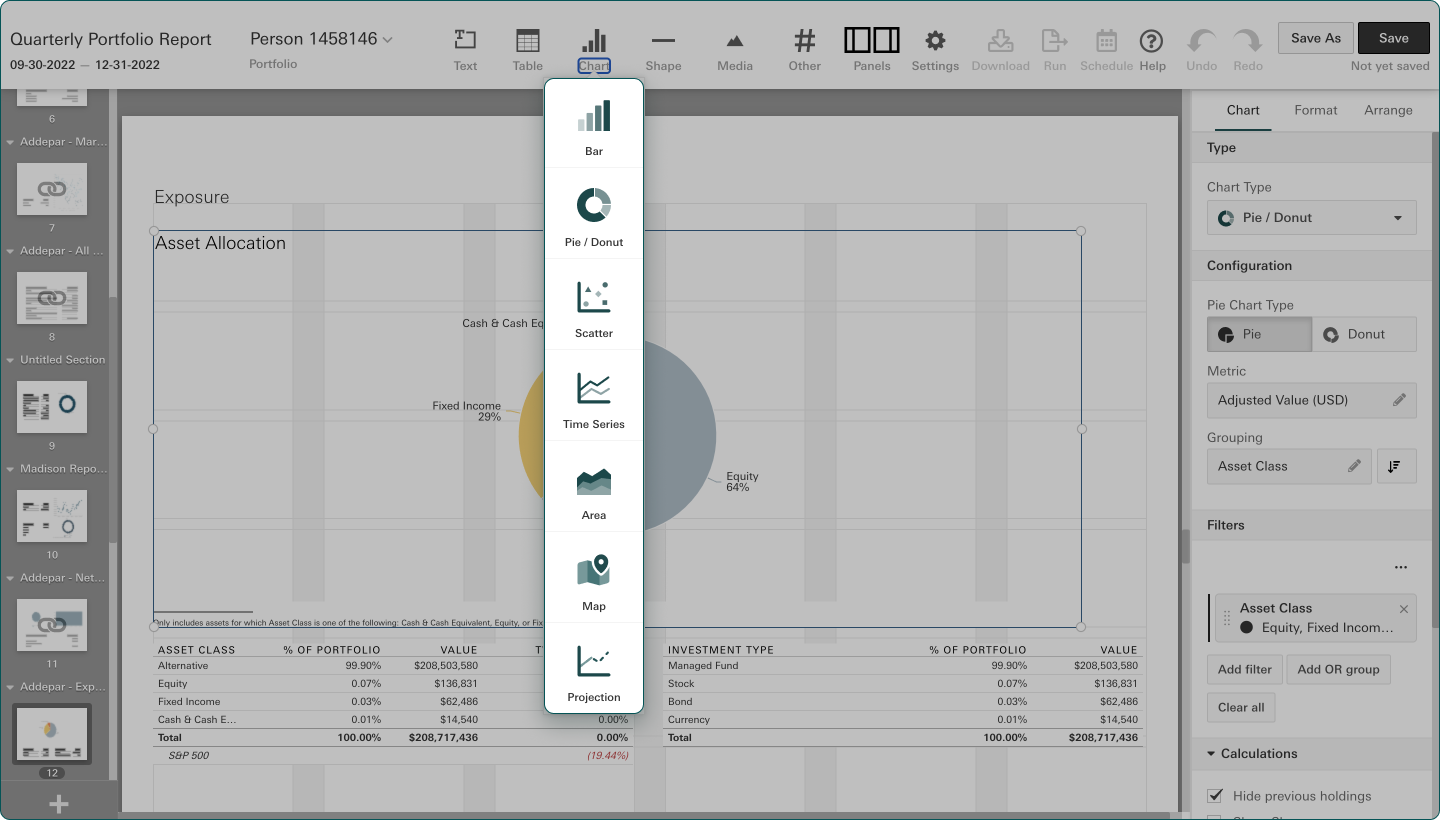 Chart customization options in the Reporting module
In-app Imports (beta)
The in-app import tool (beta) enables you to quickly and easily import your client's data from .csv and .xlsx templates directly into Addepar. Now, upload data from 10+ categories including attributes, benchmarks, investments, ownership, transactions and more, as well as data for fees and FX assets including designated fee types, options, futures, and forward contracts.  
Addepar clients can review the Release Notes for details on our latest product updates. Not a client? Contact our team at bd@addepar.com for more information.
Marketplace
*Marketplace, which provides clients with relevant and differentiated private fund investment opportunities, has continued to pick up momentum, with a successful final close on Mavik Real Estate Special Opportunities Fund, a real estate private credit fund managed by Mavik Capital Management, in Q1 2023.
The Marketplace team is currently in-market with four managers across early-stage venture capital, sports-focused secondary private equity, asset-backed lending and emerging market impact growth equity. To learn more about the firm's private market capabilities, contact placements@acervussecurities.com. 
Research & Insights
This month, the Addepar Research team released its latest report on navigating the cash management landscape, sharing recent trends in the cash market and a framework to help investment managers evaluate options for deploying cash. They found that the most successful cash managers regularly refresh their cash management strategies to current market conditions, and they assess tradeoffs between expected return and illiquidity across cash instruments. Download the full report to learn more.
Reach out to the Addepar Research team at research@addepar.com to recommend ideas for future research. Addepar clients can register for access to Addepar Research here. 
What's Happening Around the Addepar Community
Integrations update: We're excited to announce new integrations with Entole and Ridgeway Lane. Entole provides a modular Command Center that centralizes private capital functions, and Ridgeway Lane specializes in platform implementation solutions and services. You can learn more about our integration partners, explore technical details, and find onboarding instructions in the Addepar Integration Center.

Community Meetups: This month, we hosted our largest community event of the year in NYC, bringing together clients and prospects to share best practices, learn from our product experts and enjoy networking with views of the cityscape. We're looking forward to our next Meetup in Boston on August 10th – reach out to our team at community@addepar.com to attend.

Watch the replay: In a recent webinar with estate advisory platform Vanilla, Addepar discussed how an integration creates a comprehensive picture of your clients' family and financial information in their estate profile. Watch the webinar here. 
Company Updates
For the eighth year in a row, Addepar has been recognized as part of the annual Forbes Fintech 50 list! We are honored to be named one one of the top private companies that is transforming finance through data and technology in 2023. 

Our team was proud to represent at this year's BNY Mellon | Pershing INSITE Conference in Orlando, Florida. Addepar's Chief Technology Officer Ruchir Swarup and Deputy Head of Research Dan Golosovker spoke about how firms are leveraging tech and data insights to navigate today's volatile markets.

In an exclusive conversation with Plaid, Don Nilsson, Chief Product Officer discusses how Addepar uses Plaid to help investment professionals serve their end-clients by offering real-time visibility into their cash holdings. 

We hosted our annual AddeConf23 Developer Conference live in NYC for Addepar's larger developer community of clients and partners to network, exchange ideas, share best practices, and showcase tools and solutions being built on top of our APIs. Highlights of the program included a fireside chat with  Matt Katz, Senior Managing Director and the Global Head of Data Science at Blackstone; a client panel with technology leaders from RBC, Cresset and HantzGroup; as well as demos from StratiFi, YCharts and Fabric.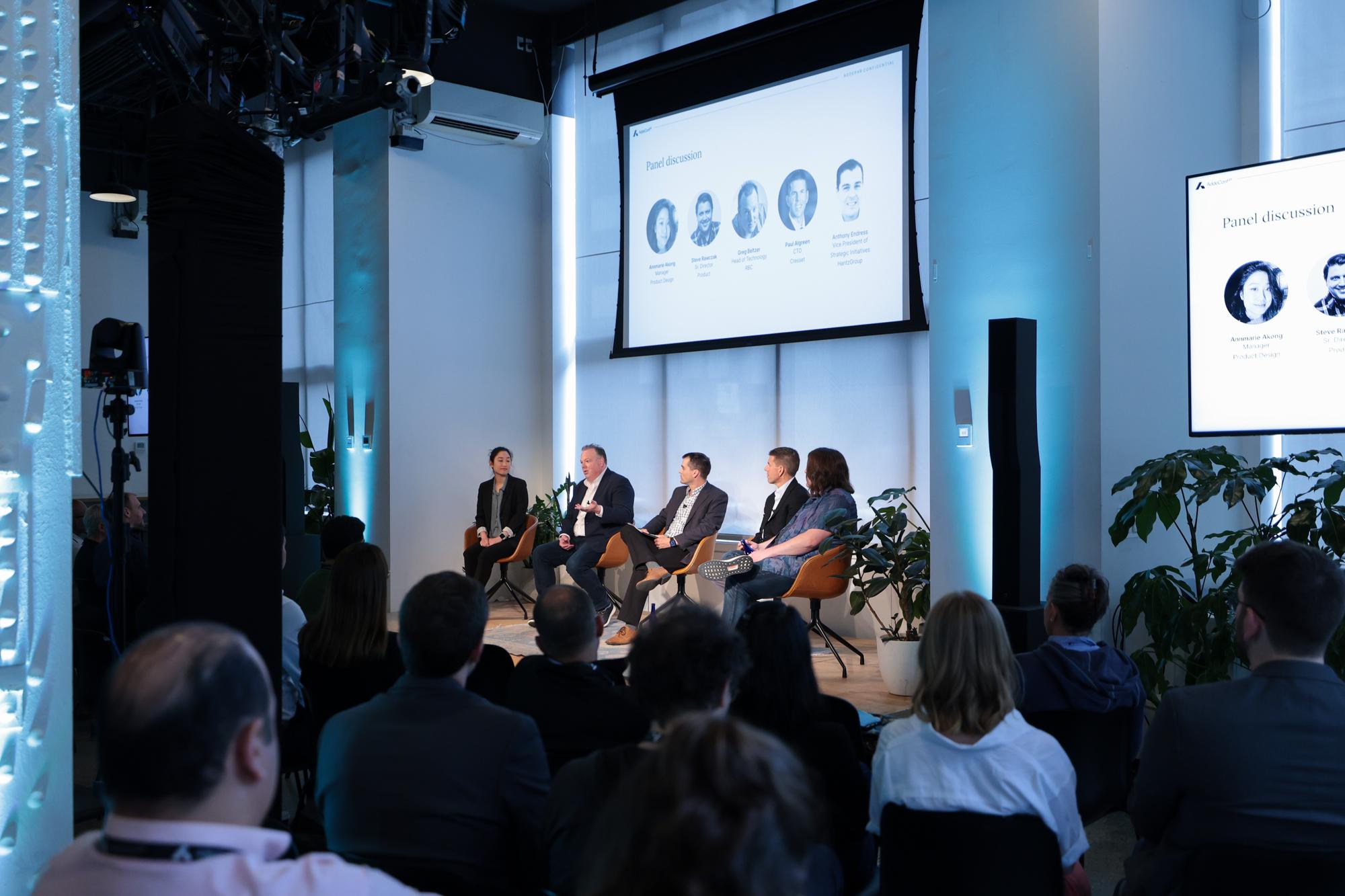 AddeConf23 Panelists from left to right: Annmarie Akong (Product Design Manager, Addepar), Steve Rawczak (Sr. Product Director, Addepar), Greg Beltzer (Head of Technology, RBC Wealth Management–U.S.), Paul Algreen (CTO, Cresset), Anthony Endress (VP Strategic Initiatives, HantzGroup)
Learn how Addepar empowers smarter investment decisions
About Addepar
Addepar is a software and data platform that is purpose-built for professional wealth, investment and asset management firms to deliver outstanding results for their clients. We're helping our clients unlock the power and possibility of more informed, data-driven investing and advice. Our platform was created to empower investment managers to make data-driven and more confident investment decisions, and to clearly see how assets are performing and where they might be exposed. Most recently, we've expanded our capabilities to include Navigator for scenario modeling and AdvisorPeak Trading & Rebalancing to address portfolio drift.
*Marketplace and brokerage services are provided by Acervus Securities, an Addepar company and SEC-registered broker-dealer and member FINRA/SIPC. Acervus Securities, Inc. is not acting as a municipal advisor and the opinions or views contained herein are not intended to be, and do not constitute, advice within the meaning of Section 975 of the Dodd-Frank Wall Street Reform and Consumer Protection Act. This website is for informational purposes only.  It is not intended as an offer, or solicitation of an offer, to buy or sell any security or other product. The information provided is subject to change without notice. To learn more about Acervus Securities investment business, products and services, as well as our relationship with you, please review our Acervus Securities Form CRS. For additional information please visit our disclosure page.