Published on
Inside Addepar is a monthly round-up of Addepar platform updates, research insights and client, partner and company news.
This month, explore new product updates for curating your clients' experience, review our Q2 Product Roadmap and learn more about Addepar Research, which delivers proprietary insights derived from Addepar's unique data set. Get involved in our newly expanded EMEA Addepar Pro Community and check out our conversation with Callan Family Office about why innovative technology is so essential for serving UHNW clients, foundations and endowments. Read on to learn more.
Product Updates
Curate your clients' experience
Addepar has made a handful of updates to improve the Portal experience for both users and their clients. We've introduced a new Client Portal Usage Dashboard that enables firms to track Portal usage in a single view, gaining insight on firm and contact data. Users can also audit and manage attributes that appear in the Client Portal to ensure clients see the right data points. 
We've upleveled tooling to enable increased security for firms, allowing users to make 2FA mandatory for their firm's users and/or Portal contacts. When 2FA is required, the option to turn off 2FA won't be available; only users with permission to manage the Portal can turn it off for individual contacts.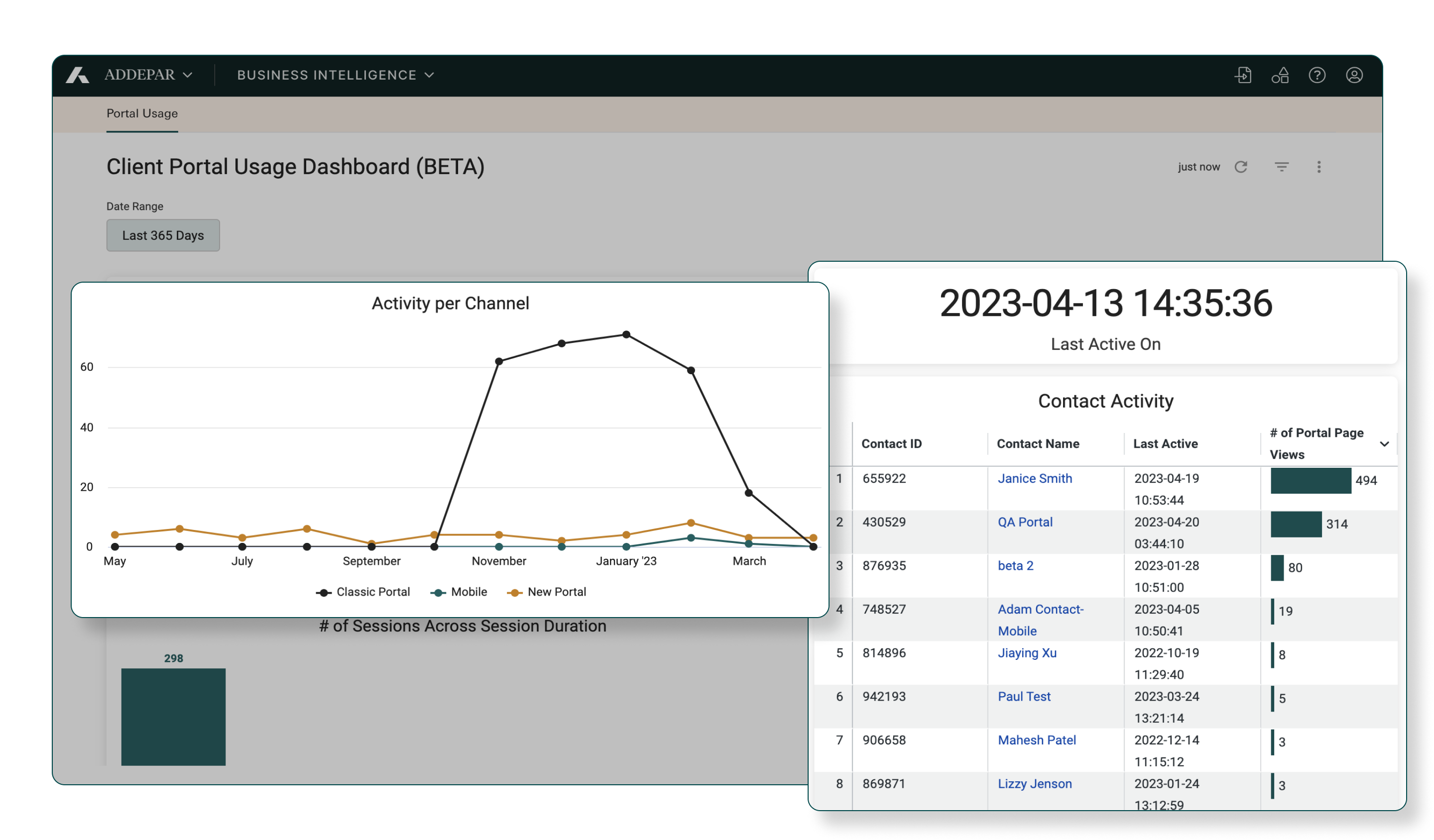 Client Portal Usage Dashboard view (Beta)
Q2 Product Roadmap is now available
Updated on a quarterly basis, Addepar's product roadmap provides an overview of where we're investing our efforts over the next quarter. In Q2, we're focused on household billing and reporting, billing permissions and online account setup. We also plan to run beta programs for Dashboards, Trading, and much more. Review the full product roadmap on the Addepar Help Center.
Addepar clients can review the Release Notes for details on our latest product updates. Not a client? Contact our team at bd@addepar.com for more information.
Research & Insights
​​In April, we announced the launch of Addepar Research, a team of experts who leverage our unique, anonymized and aggregated data set paired with macroeconomic statistics to glean insights and best practices to help clients to make more informed, data-driven decisions. Addepar Research is led by Dr. Ashby Monk, one of the world's foremost academics and entrepreneurs focused on bringing technology to investment organizations.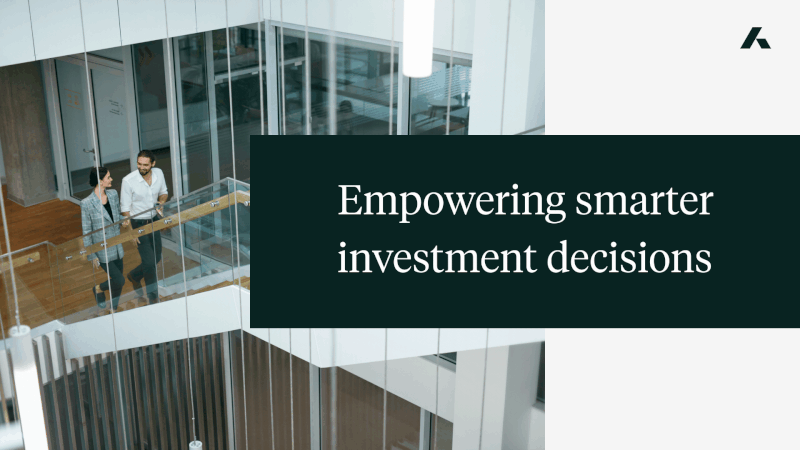 In one of their inaugural studies, "The Mechanics of Fund Diversification," the Addepar Research team explored how investors can maximize alpha while effectively estimating the cash needed to fund capital calls. One key finding was the importance of fund diversification, as increasing the number of funds held reduces the volatility of liabilities and enables investors to hold smaller cash buffers. For example, when an investor moves from one to two or two to three funds, they can nearly halve their capital call risk. At the same time, over-diversification starts at four to six funds. Download the full report to learn more.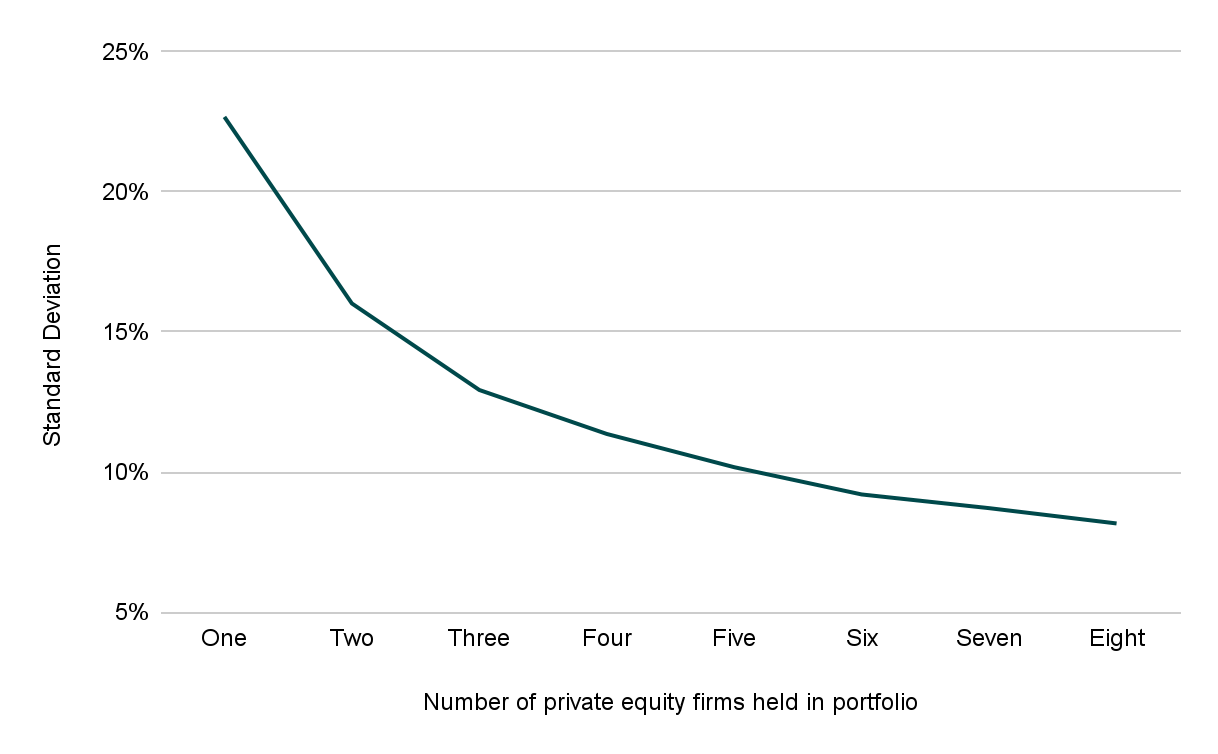 Capital call risk decreases as portfolio size increases: standard deviation two years after initial commitment
Reach out to the Addepar Research team at research@addepar.com to recommend ideas for future research. Addepar clients can register for access to Addepar Research here. Not a client? Check out our website for more information. 
What's Happening Around the Addepar Community
See how other firms in the Addepar Community are utilizing key features and integrations available on the Addepar platform:
Company Updates 
Addepar was named "Best in Class" in Aite-Novarica Group's 2023 Aite Matrix: RIA Portfolio Management and Reporting Systems report, which evaluated key elements including advisor reporting and functionality, portfolio rebalancing, third party integrations and client portal capabilities of seven leading software vendors for the RIA market. Read the report here.

Dr. Ashby Monk, Addepar's Head of Research and Executive Director of the Stanford Research Initiative on Long-Term Investing, discussed investor identity, navigation and resilience on the Capital Allocators podcast. Listen to the full episode here.
Learn how Addepar empowers smarter investment decisions
About Addepar
Addepar is a software and data platform that is purpose-built for professional wealth, investment and asset management firms to deliver outstanding results for their clients. We're helping our clients unlock the power and possibility of more informed, data-driven investing and advice. Our platform was created to empower investment managers to make data-driven and more confident investment decisions, and to clearly see how assets are performing and where they might be exposed. Most recently, we've expanded our capabilities to include Navigator for scenario modeling and AdvisorPeak Trading & Rebalancing to address portfolio drift.