Published on
Inside Addepar is a monthly round-up of Addepar platform updates, research insights and client, partner and company news. 
Addepar Navigator℠ continues to generate interest from our clients as a tool for managing liquidity for portfolios with significant investments in private capital assets. This month, we're highlighting new features within the product and how one investment firm is using it to forecast cash flows for their clients in commitment-based funds. We're also introducing a new test and development environment, Sandbox, new integration partners and upcoming events for Addepar Community members. Read on to learn more. 
Product Updates
Addepar Navigator
Addepar's Navigator, a projection tool that enables investment managers to understand what a portfolio might look like in the future based on expected returns and cash flows, now has over 100 client firms and continues to see increased adoption in continued market volatility. 
Recent feature updates include allowing multiple users to open and run projections using different views at the same time, the ability to override security details such as commitment and inception date coming from Addepar, and the ability to save Addepar views to a configuration. Contact your Addepar account manager to discuss Navigator, or contact a member of our team at bd@addepar.com if you're interested in learning more about the Addepar platform.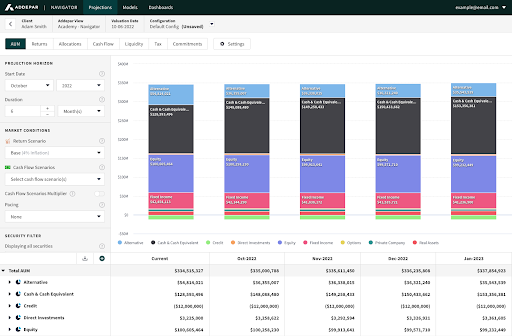 Navigator Projections
Sandbox
With the introduction of Sandbox, clients can test workflows, iterate on custom and partner integrations, and try or test changes before implementing them into production in a dedicated, low-risk environment. Addepar's Lead Product Manager Steven Lamb explains how Sandbox empowers Addepar clients to build more confidently on our blog.
Addepar clients can review the Release Notes for details on our latest product updates. Not a client? Contact our team at bd@addepar.com for more information.
Research & Insights
The Addepar Investor Sentiment Index is a transactions-based index of high- and ultra-high-net-worth (U/HNW) investor sentiment data derived from U.S. equity transactions captured on the Addepar platform. February's key observations include:
The February headline sentiment was moderately bearish at -2.2.

Net trading activity reached historic lows as investors stayed on the sidelines in volatile markets.

Investors rotated into consumer cyclicals while rotating out of consumer defensive and industrials.
Click here to learn how the Investor Sentiment Index is calculated and access other key insights from the Addepar platform.
What's Happening Around the Addepar Community
See how other firms in the Addepar Community are utilizing key features and integrations available on the Addepar platform:
Managing private capital liquidity with Attinger: We recently spoke with Attinger, a multifamily investment firm with approximately 40 clients and more than $600 million in assets under management, about how they leverage Addepar Navigator to help manage liquidity for clients with significant investments in private capital assets. Check out the interview with Attinger's Head of Investment Analytics, Thomas Nicholson, on our blog.

Integrations update: We're excited to share a new integration with Vanilla. Vanilla enables users to simplify complex estate plans and financial data with interactive visuals and on-demand reports. You can learn more about our integration partners, explore technical details, and onboarding instructions in the Addepar Integration Center.

Dallas Community Meetup: Our next community meetup is coming up soon in Dallas on Tuesday, April 11 at 3 pm CT. Attendees discuss forecasting future cash flows for alternatives, learn more about recent product updates and hear from a guest speaker about hiring and developing next-gen talent. Register for the meetup here.
Company Updates 
Following our most recent office opening in London, Addepar is excited to announce our expansion to India with a new office in Pune. Establishing a presence in India will allow us to further invest in research and development and support an increasingly global client base. Read more on our blog.
Learn how Addepar empowers smarter investment decisions
About Addepar
Addepar is a software and data platform that is purpose-built for professional wealth, investment and asset management firms to deliver outstanding results for their clients. We're helping our clients unlock the power and possibility of more informed, data-driven investing and advice. Our platform was created to empower investment managers to make data-driven and more confident investment decisions, and to clearly see how assets are performing and where they might be exposed. Most recently, we've expanded our capabilities to include Navigator for scenario modeling and AdvisorPeak Trading & Rebalancing to address portfolio drift.