Published on
Inside Addepar is a monthly round-up of the latest updates to the Addepar platform; insights from our proprietary, anonymized and aggregated data set; highlights from our client community; and news about our team at Addepar. 
In November, we're taking a closer look at funding data for private companies available on Marketplace, sharing the latest Investor Sentiment Index from our Research team, and we're pleased to announce HSBC has selected Addepar as their consolidated client performance reporting platform. We also encourage you to join us for a very special event with the CIO and CCO of Geller Advisors and Addepar's CEO. Read on to learn more.
Product Updates
Now discover pricing on private companies on Marketplace
Our affiliate's (Acervus Securities, member FINRA/SEC) Marketplace now allows users to view primary funding information and indicative secondary bids and offers for companies across the market including order size, recency, and price relative to last round. Marketplace currently has data on 1,000+ private companies, $2+ billion in indications book volume and $100+ million in TTM transaction volume. This proprietary dataset is sourced from Acervus Securities' extensive network of clients, brokers, and partners, combined with its' dedicated private placements desk. 
To stay up-to-date, users can create a watchlist for companies they're interested in or have exposure to, and receive alerts for updates on primary funding rounds and verified secondary activity.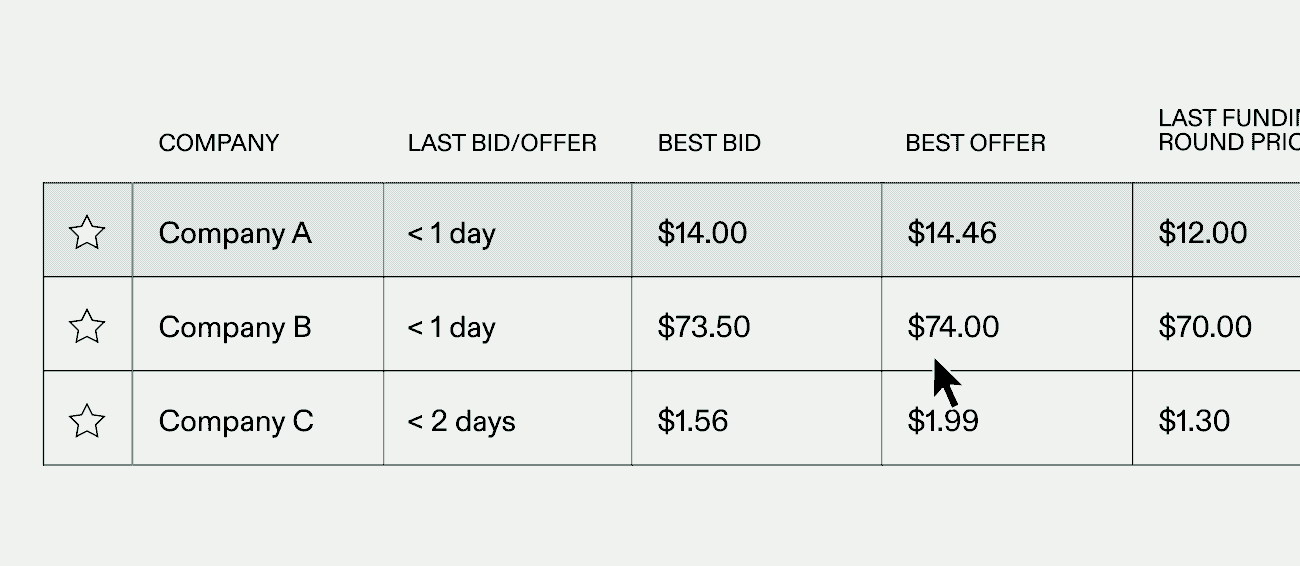 Within Marketplace, you can add companies to a watchlist and receive alerts for updates on funding activity.
Review the Version 2.197 Release Notes to learn more about additional Analysis functionality, billing updates, API tooling and more. Not a client? Reach out to our team at bd@addepar.com for more information.
Research & Insights
The Addepar Investor Sentiment Index is a transactions-based index of high- and ultra-high-net-worth (U/HNW) investor sentiment derived from U.S. equity transactions captured on the Addepar platform. October's key observations:
The October headline sentiment reading was bearish at -3.6.

Consistent with historical trends, the percentage of portfolio selling equities increased as markets rallied during the month.

Investors rotated into healthcare and technology and out of financial services.
Click here for more information on how the Investor Sentiment Index is calculated and check out other key insights from the Addepar platform.
What's Happening Around the Addepar Community
Review our latest content to see how other firms in the Addepar Community are managing continued market volatility and utilizing key features and integrations available on the Addepar platform:
Don't Miss: Embracing Resilience in Today's Markets with Addepar CEO Eric Poirier and Geller Advisors' Chief Investment Officer Robert Wedeking and Chief Client Officer Scott Bush. Register here.

Watch: Addepar joined YCharts to discuss how to seamlessly import portfolio data from Addepar into YCharts, popular workflows for building and analyzing portfolios, and helpful tools and features to elevate the user experience. Watch here.

Register Now: Guiding wealth through unified communication: How Addepar + Fabric help power Cresset's notable client success. Register here.
Company Updates 
HSBC U.S. Private Banking, part of the bank's Wealth and Personal Banking business, announced that it selected Addepar as its consolidated client performance reporting platform. The Addepar platform will provide HSBC with critical tools, such as comprehensive portfolio views and in-depth analytics, to optimize the client experience.

Our Chief Technology Officer Ruchir Swarup was named a finalist in the Executive Leadership category of the 2022 ThinkAdvisor Luminaries awards! Read about the nominees and their contributions to the industry on ThinkAdvisor.

Addepar is expanding its UK presence! Following our first office opening outside the U.S. in Edinburgh, Scotland, we are pleased to announce our London office opening at 23 Bedford Square. Learn more on our blog and check out job openings at both locations. 

The Addepar team was proud to represent at the 2022 Schwab IMPACT conference. Our Chief Product Officer, Don Nilsson, gave a talk on how RIAs can leverage the Addepar platform to unlock the power and possibility of more informed, data-driven Investing and advice.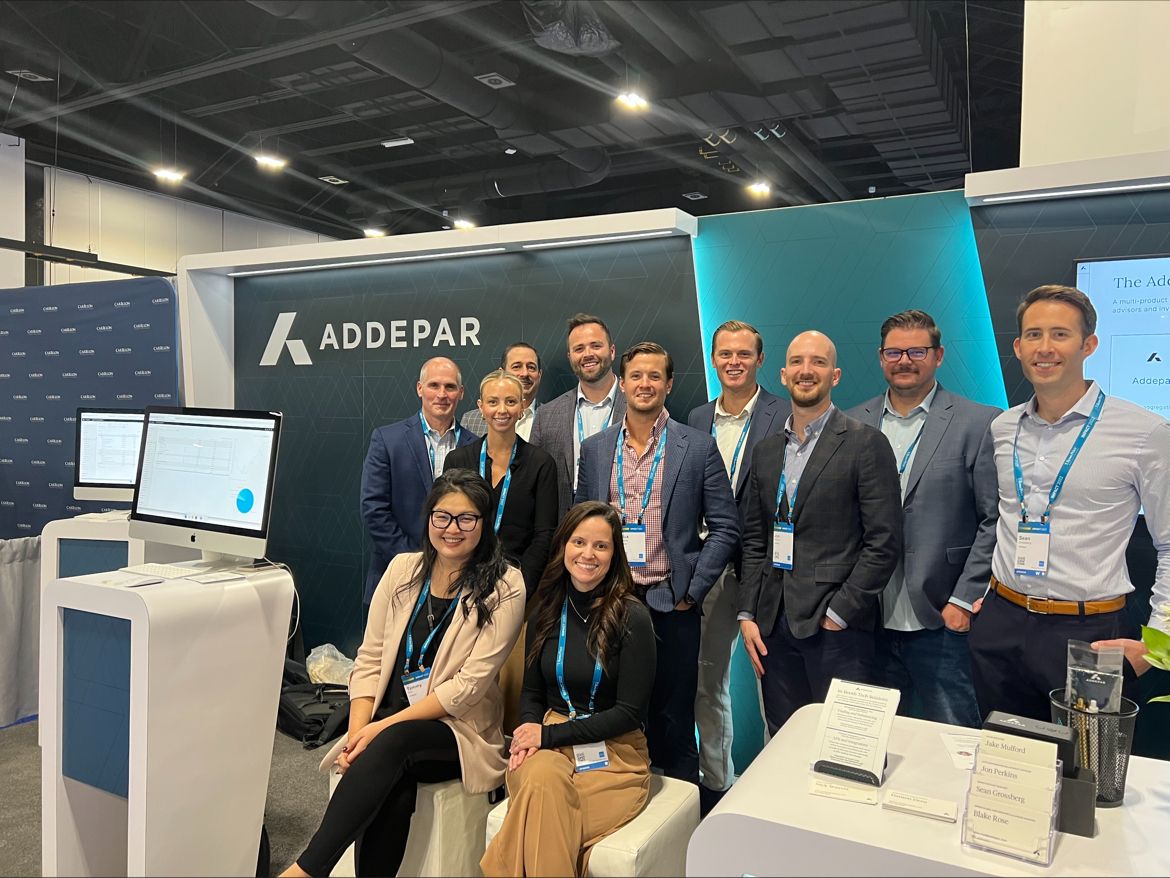 The Addepar team at Schwab IMPACT 2022
Learn more about how Addepar can enable you to spend more time delivering value to your clients
About Addepar
Addepar is a software and data platform that is purpose-built for professional wealth, investment and asset management firms to deliver outstanding results for their clients. We're helping our clients unlock the power and possibility of more informed, data-driven investing and advice. Our platform was created to empower investment managers to make data-driven and more confident investment decisions, and to clearly see how assets are performing and where they might be exposed. Most recently, we've expanded our capabilities to include Navigator for scenario modeling and AdvisorPeak Trading & Rebalancing to address portfolio drift.
*Marketplace and its brokerage services provided by Acervus Securities, an Addepar company and SEC-registered broker-dealer and member FINRA/SIPC. This article, and any attachments, is not an offer, or solicitation of an offer, to buy or sell any security or other product.