Published on
Inside Addepar is a monthly round-up of Addepar platform updates, research insights and client, partner and company news. 
This month, we're highlighting product updates that will enable firms to run reports at enterprise scale, as well as Client Portal improvements that offer more flexibility and functionality to clients. The latest Addepar Research report explores how a sample of Addepar clients are using CMAs to inform decisions, and we share exciting Addepar community and company updates. Read on to learn more. 
Product Updates
Programmatically run reports at enterprise scale
This month, we're proud to share two updates that when paired together, enable firms with larger client bases to streamline and systematize report generation at scale.
We've increased the number of portfolios users can associate with a report from 20,000 to 50,000, saving time previously spent on the manual duplication process and running of reports. We also rolled out the Report Generation API (Beta) to allow users to run reports from outside the Addepar web application, generating PDFs for each associated portfolio for a given time period. Simply put, users will now be able to generate reports for tens of thousands of portfolios at once with the push of a button.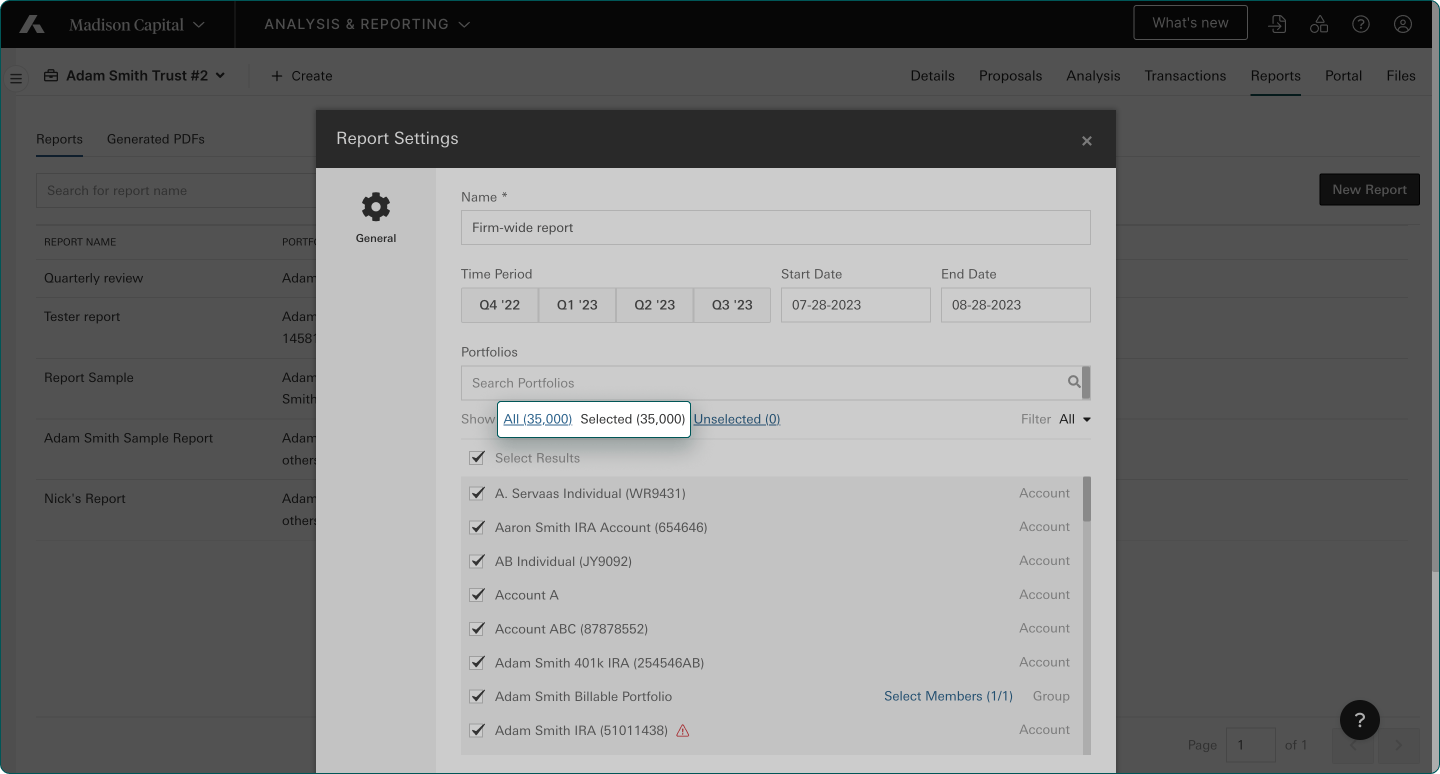 Associate a report with up to 50,000 portfolios
Client Portal: side-by-side charts and contact filtering
As we continue to build additional flexibility into Addepar's new Client Portal, we're thrilled to introduce side-by-side charts, a new layout setting that enables users to configure client views to show charts next to each other for easier data comparison. Previously, this option was only available in the existing version of Portal, which will be discontinued later this year.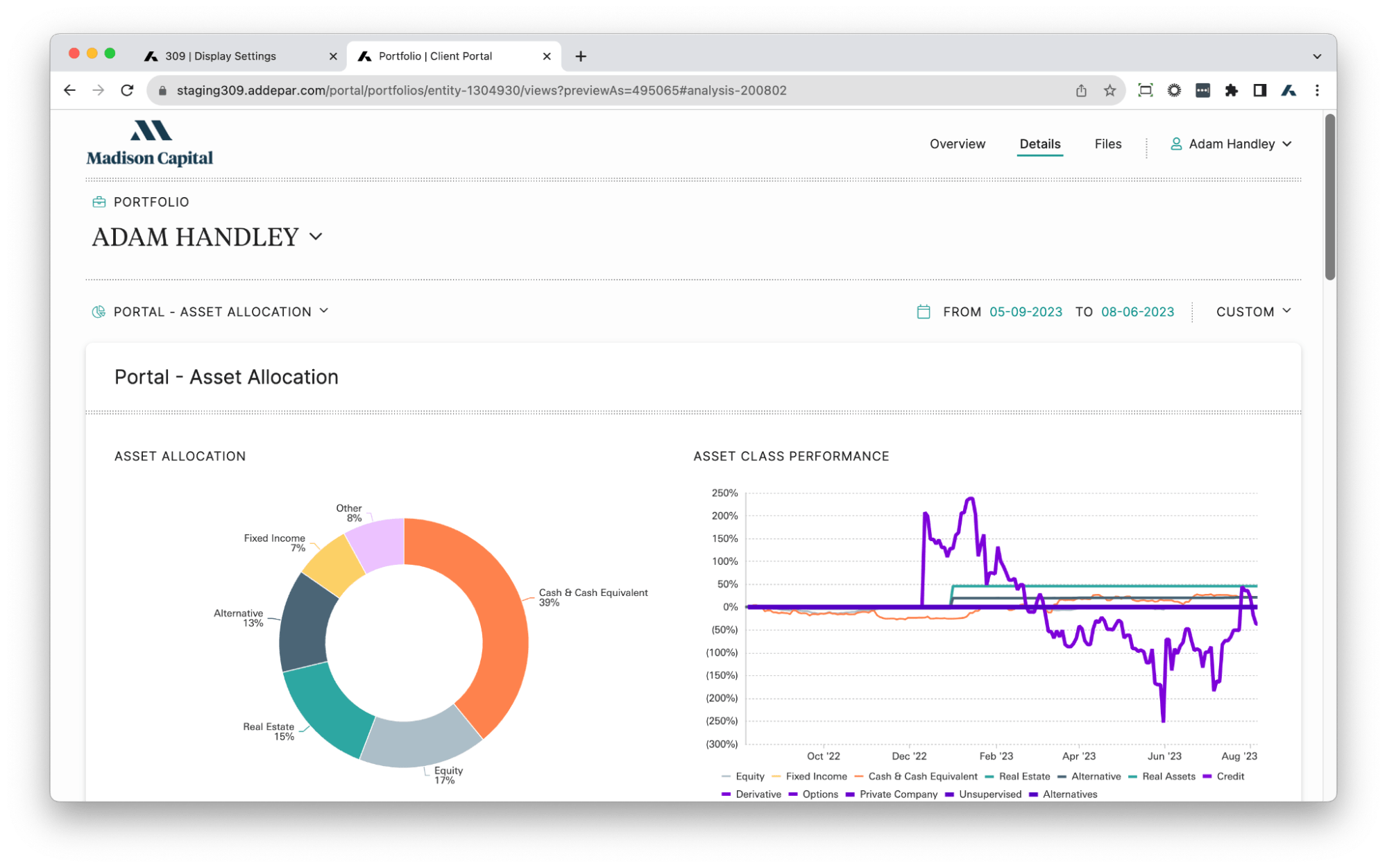 Side-by-side charts in Client Portal
In addition, Client Portal users will now have the ability to filter contacts by portfolio and subscription group to narrow search results with ease. For example, a user can select a specific portfolio to show only the contacts affiliated with it.
Addepar clients can review the Release Notes for details on our latest product updates. Not a client? Contact our team at bd@addepar.com for more information.
Marketplace
Marketplace, which provides clients with relevant and differentiated private fund investment opportunities, held a successful final close in Q3 2023 for an industry-leading growth equity manager who deploys operational capital across resilient, technology-driven businesses. The Marketplace team is currently in-market with three private investment opportunities: 1) a sports-focused structured private equity fund, 2) a lower-middle-market deep value buyout fund, 3) an emerging market impact growth equity fund. 
Marketplace is offered through Addepar's affiliate broker-dealer, Acervus Securities, member FINRA/SIPC. To learn more about the private market capabilities in Marketplace, contact placements@acervussecurities.com. 
Research & Insights
Investors frequently use capital market assumptions (CMAs) to help steer fundamental investment activities, namely setting target asset allocation. Although CMAs are widely valued even when flawed, there are very few best practices for CMA selection or implementation. 
In a recent report, the Addepar Research team shares how a sample of Addepar clients are using CMAs to inform decisions. Their findings reveal key ways to use CMAs to drive long-term investment outperformance; these include integrating alternative data sources, developing different scenarios to increase portfolio resilience and thoughtfully using CMA models in longer-term strategic asset allocation processes.
Reach out to the Addepar Research team at research@addepar.com to recommend ideas for future research. Addepar clients can register for access to Addepar Research here. 
What's Happening Around the Addepar Community
Integrations update: This month, we're excited to announce a new partnership with Storyline. Storyline personalizes the internal and external communication of portfolio insights with clients through recurring AI-generated Portfolio Insights video episodes. Learn more about our integration partners, explore technical details and find onboarding instructions in the Addepar Integration Center.

Navigating the cash landscape with StoneCastle: Addepar teamed up with StoneCastle last month to host a webinar on the ever-changing cash landscape. StoneCastle President Eric Lansky and Addepar Senior Relationship Manager Burin Poomchonghko discussed how wealth managers and advisors can best realize new opportunities while helping clients save, grow and protect more of their cash. Watch the replay here. 

Addepar in Toronto: We recently hosted our first international Addepar Community Meetup in Toronto, Canada, where we brought together local clients to hear from Addepar product experts, discuss their best practices and network with industry peers. If you're interested in learning more about our Community Meetups and where we're headed next, reach out to our team at community@addepar.com.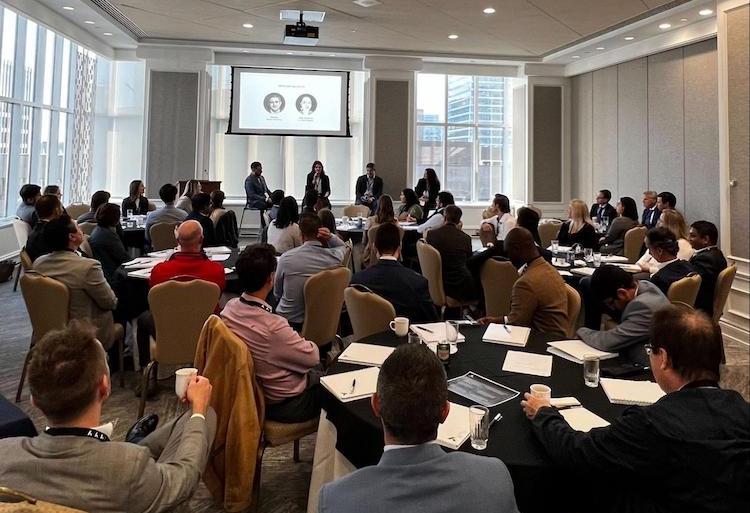 Panel discussion during the Addepar Community Meetup in Toronto
Company Updates
Learn how Addepar empowers smarter investment decisions
About Addepar
Addepar is a software and data platform that is purpose-built for professional wealth, investment and asset management firms to deliver outstanding results for their clients. We're helping our clients unlock the power and possibility of more informed, data-driven investing and advice. Our platform was created to empower investment managers to make data-driven and more confident investment decisions, and to clearly see how assets are performing and where they might be exposed. Most recently, we've expanded our capabilities to include Navigator for scenario modeling and AdvisorPeak Trading & Rebalancing to address portfolio drift.