Published on
Technology for Registered Investment Advisors
Financial advisors rely on RIA technology to regularly handle day-to-day investment management, but beyond its practical uses, software is also paramount for delivering optimal client services and driving portfolio success. When building a tech stack, you should be looking to make an impact on the growth of the advisory firm, efficiency of daily processes and of course, results – which leads to overall client satisfaction.  
Various aspects motivate RIAs to invest in their technology, especially for those managing larger accounts. Switching to newer and more effective technology usually becomes part of the discussion when a firm is ready to truly take a hard look at operational efficiency and cost. Breaking out of the processes that have been the norm for decades can seem challenging on the surface, but its return is immediately apparent when weighing the efficiency, security, accuracy, and opportunity for growth. Looking forward, investing in an RIA platform will become increasingly important in coming years as processes and assets are becoming predominately digital.
What Technology Is in an RIA's Tech Stack?
Financial advisors rely on many tools to facilitate trading and rebalancing, streamline workflows, provide intuitive reporting, and free up time to focus on prioritizing client relationships. When considering how RIAs traditionally use technology, the following are the most crucial.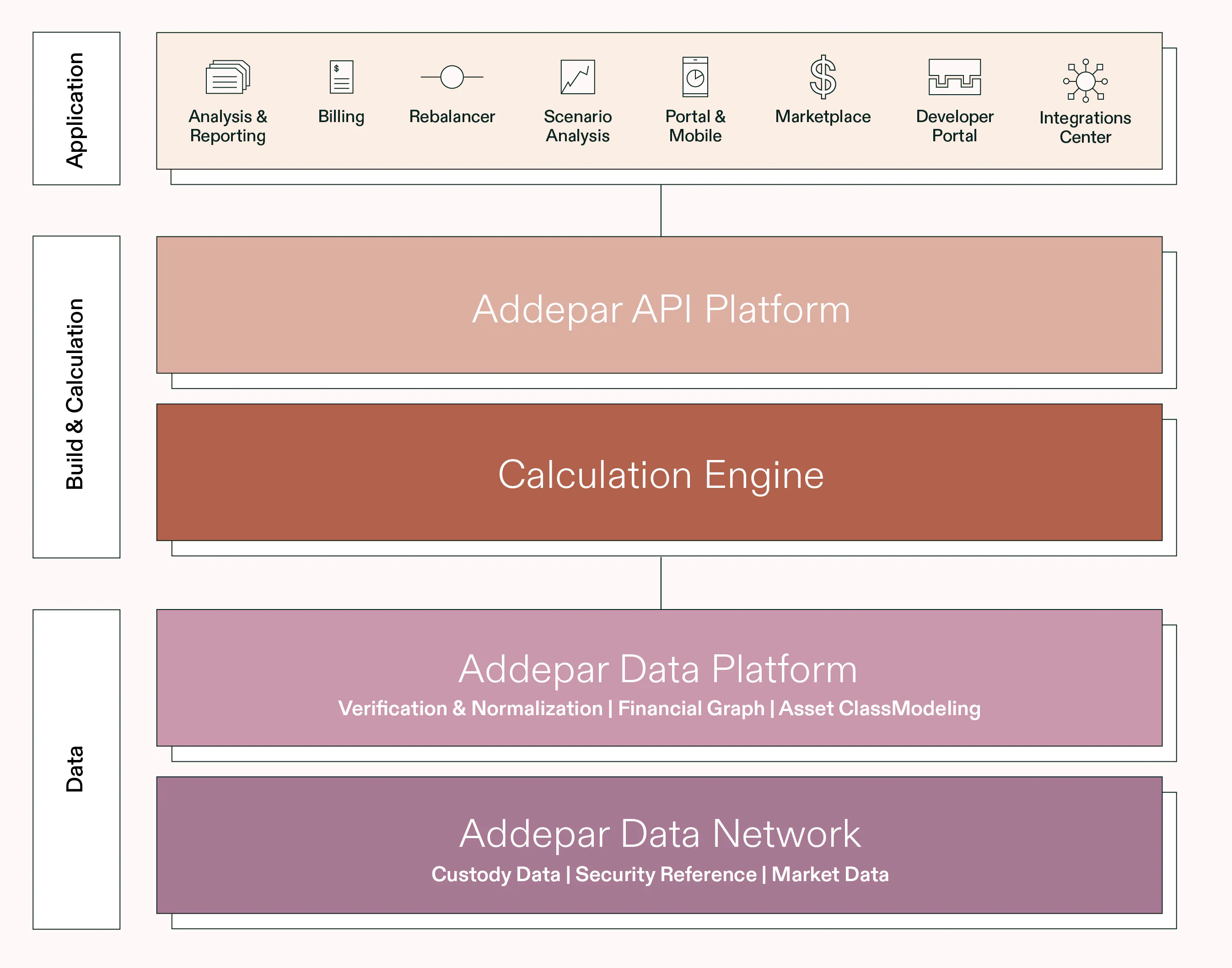 Performance Reporting
An essential RIA technology solution includes performance reporting software. Financial services providers seek on-demand analysis, personalized data and reporting at scale to ensure their clients receive high-touch service without a large time investment. Another important element is security.  When using a permissioned system that controls who can see the data and determine how it's generated, the investment management data remains secure. 
Financial Planning 
When an advisory firm uses software to facilitate comprehensive financial, estate and tax planning for a client, it's easier to consolidate a client's investment portfolio accurately, and create trusting relationships. Financial planning software is a favorite tool of many wealth managers due to its versatility and ability to aggregate data with less effort. 
Customer Relationship Management (CRM)
The most valuable technology allows RIAs to spend more time with clients, not tech. CRMs, for example, streamline processes, organize information, create overall flexibility, bill more accurately, and automate some of the most tedious tasks in an RIA firm. When advisors rely on a tool for relationship management, they have a competitive advantage over broker-dealers and other RIAs who are slow to adopt new technology. 
Client Portal 
A well-built client portal is a way to use digital capabilities to provide transparency and usability, creating an optimal customer experience. Using a digital dashboard, a client's information is accessible for review, assuring accuracy and timeliness, and instilling confidence in the firm. 
Research 
Research informs the important decisions that RIAs make every day. The right software enables this quality research to happen in the moment, and move at the speed of the market. 
Trading & Rebalancing 
Trading and rebalancing tools are essential technology in an RIA's tech stack. Automation, insights and the ability to readjust asset allocation not only eases daily workflows but also protects an investor's portfolio. 
Proposals
Generate proposals using the insights, data, and information found within the platform. It's an effective form of tech stress tests and creates custom proposals as another way to reallocate valuable time to your clients and value-added tasks. 
Choosing Your RIA Tech
When considering how to make the switch to more sophisticated technology, you'll need more than an all-in-one solution; you'll want a full financial ecosystem. A flexible system will facilitate financial planning, streamline workflows, optimize performance reporting, simplify trading and rebalancing, and so much more.
RIAs that are hesitant to make the transition to new technology, may not be considering the operational costs, inefficiencies and time lost to antiquated systems and processes. Making the switch to a modern, robust platform can not only scale with firm growth, but will ultimately allow you to spend more time with your clients.
Learn more about how making the switch to Addepar can make all the difference. Download our eBook now.