Published on
In December, we're introducing a new way to spotlight key performance metrics in the Client Portal for web with changes to mobile slated for next month. We're also pleased to announce individual table and chart filters in Analysis views. You'll also find the latest Investor Sentiment Index data that helps you understand how investors are adjusting their portfolios based on actual transactions. Read on to learn more.
Product Updates
New Client Portal (open beta)
Addepar users can now choose to feature four key performance metrics for your clients within the new Client Portal Overview page on Portal web. This enhancement will soon be available on Addepar Mobile with the production launch in January 2023. Client Portal Overview provides a concise recap of investment performance along with your email and phone number in the event your clients have follow-up questions. Email portal@addepar.com if you have feedback for us.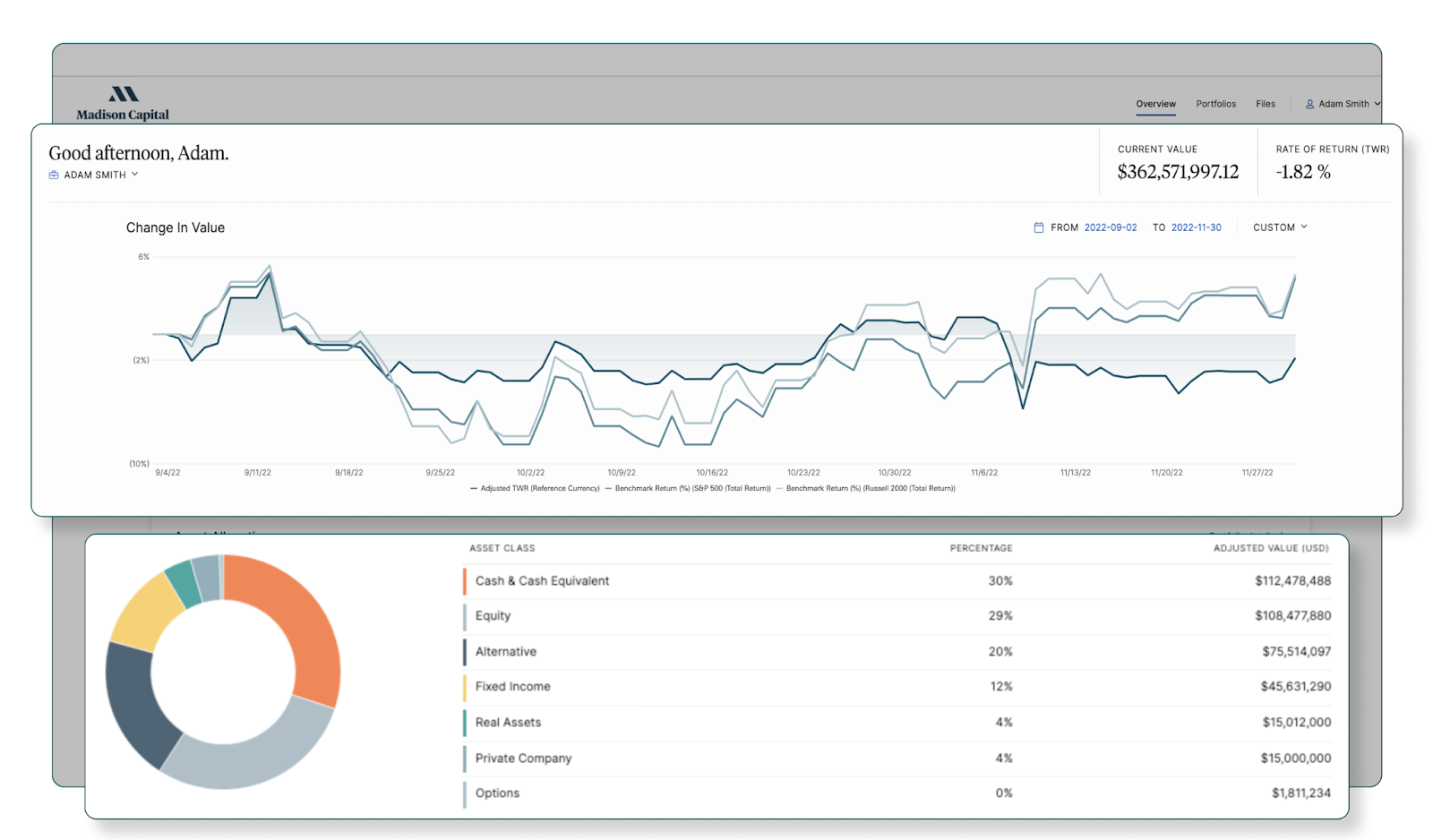 Addepar Client Portal Overview Page
Now filter individual tables and charts in views
Addepar's Analysis feature allows users to look at their portfolio performance at any level of granularity. Now, you can apply filters to individual tables and charts, making data visualization in views even more flexible. Filter configurations also work with views saved to reports so that users don't have to manually filter each table and chart in the Report Editor.
Review the Release Notes for details on our latest product updates. Not a client? Reach out to our team at bd@addepar.com for more information.
Research & Insights
The Addepar Investor Sentiment Index is a transactions-based index of high- and ultra-high-net-worth (U/HNW) investor sentiment derived from U.S. equity transactions captured on the Addepar platform. October's key observations:
The November headline sentiment reading was bearish at -2.5.

Similar to the previous month, markets rallied and the number of portfolios selling equities outpaced the number of portfolios purchasing equities. 

Investors rotated into consumer defensive and financial services while rotating out of communication services and consumer cyclical sectors.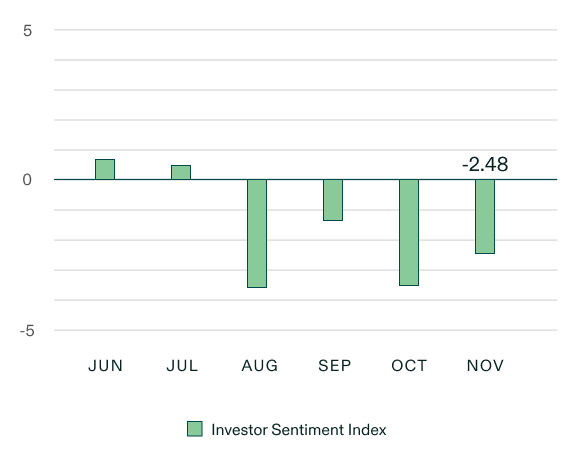 Click here for more information on how the Investor Sentiment Index is calculated and check out other key insights from the Addepar platform.
What's Happening Around the Addepar Community
Review our latest content to see how other firms in the Addepar Community are managing continued market volatility and utilizing key features and integrations available on the Addepar platform:
See the replay: Our partner Pontera joined us to discuss how you can better manage held-away accounts like 401(k)s and other retirement plans as part of a holistic portfolio approach.

Addepar IRL: Addepar hosted a total of three Community Meetups this year! We wrapped up 2022 in Miami last month, learning and connecting with an intimate group of clients and friends of Addepar.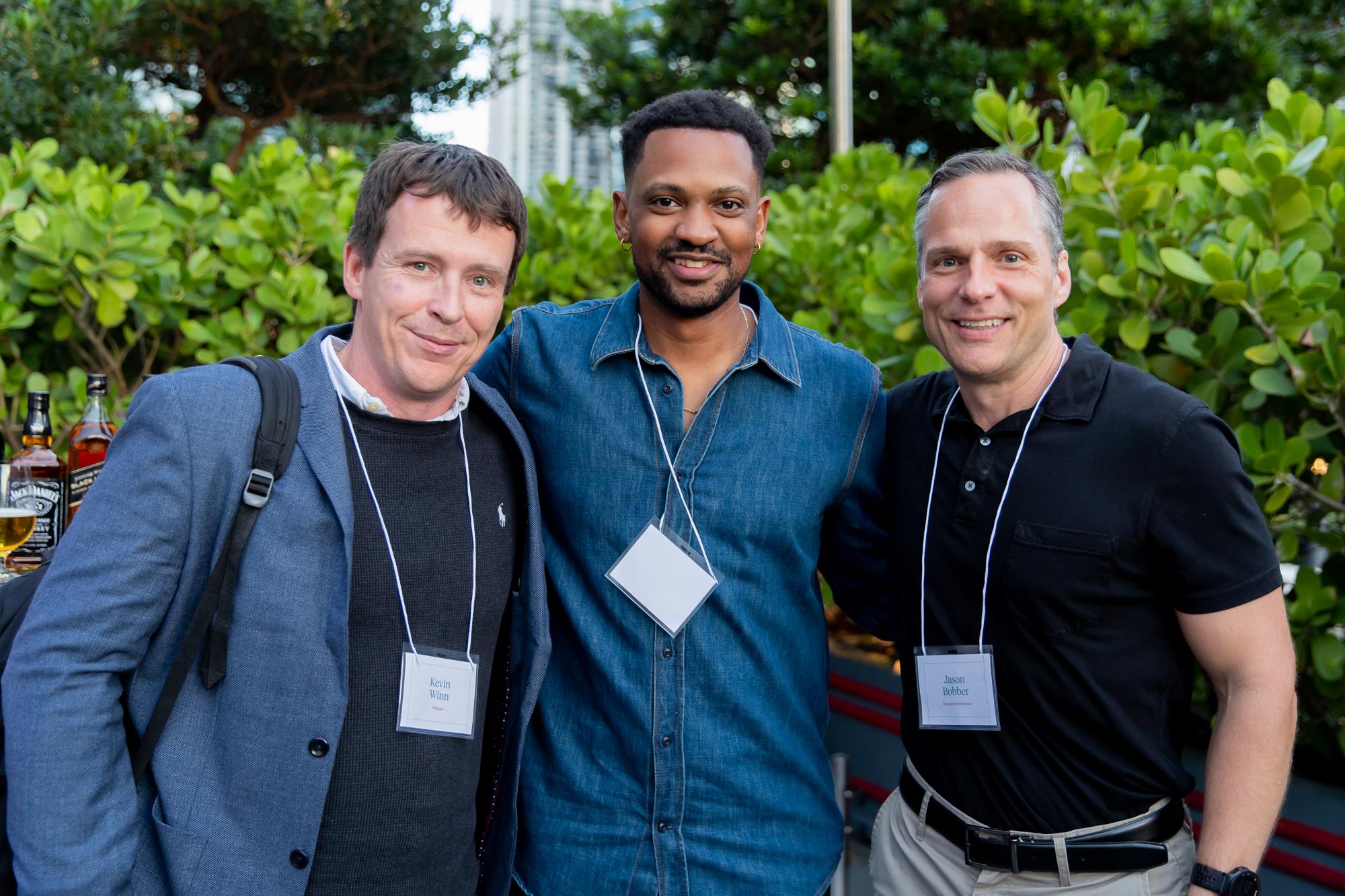 Kevin Winn, Lead Product Manager at Addepar; Steven Lamb, Lead Product Manager at Addepar; and Jason Bobber, VP Portfolio Accounting at Outpost International at the Addepar Miami Community Meetup.
Company Updates 
UBS announced that it has launched a new offering in collaboration with Addepar and Mirador that brings Addepar's data, analysis and reporting capabilities to UBS advisors in the U.S., so that they can help clients make more informed, data-driven decisions to meet their goals.  

We recently hosted our Fall 2022 edition of Addepar HackWeek, where every employee is encouraged to help transform how we and our clients do business through new ideas and solutions. Review the recap post that explores the event's theme, "Simplify", and celebrates the winning projects.

Addepar recently launched Giving Month, a program designed to allow our colleagues to volunteer their time and give back to their communities. The team prepared food donations, toys and clothes for more than 6,500 families in need and partnered with organizations like God's Love We Deliver, Little Essentials, Second Harvest Silicon Valley, SF Marin Food Bank and Utah Food Bank.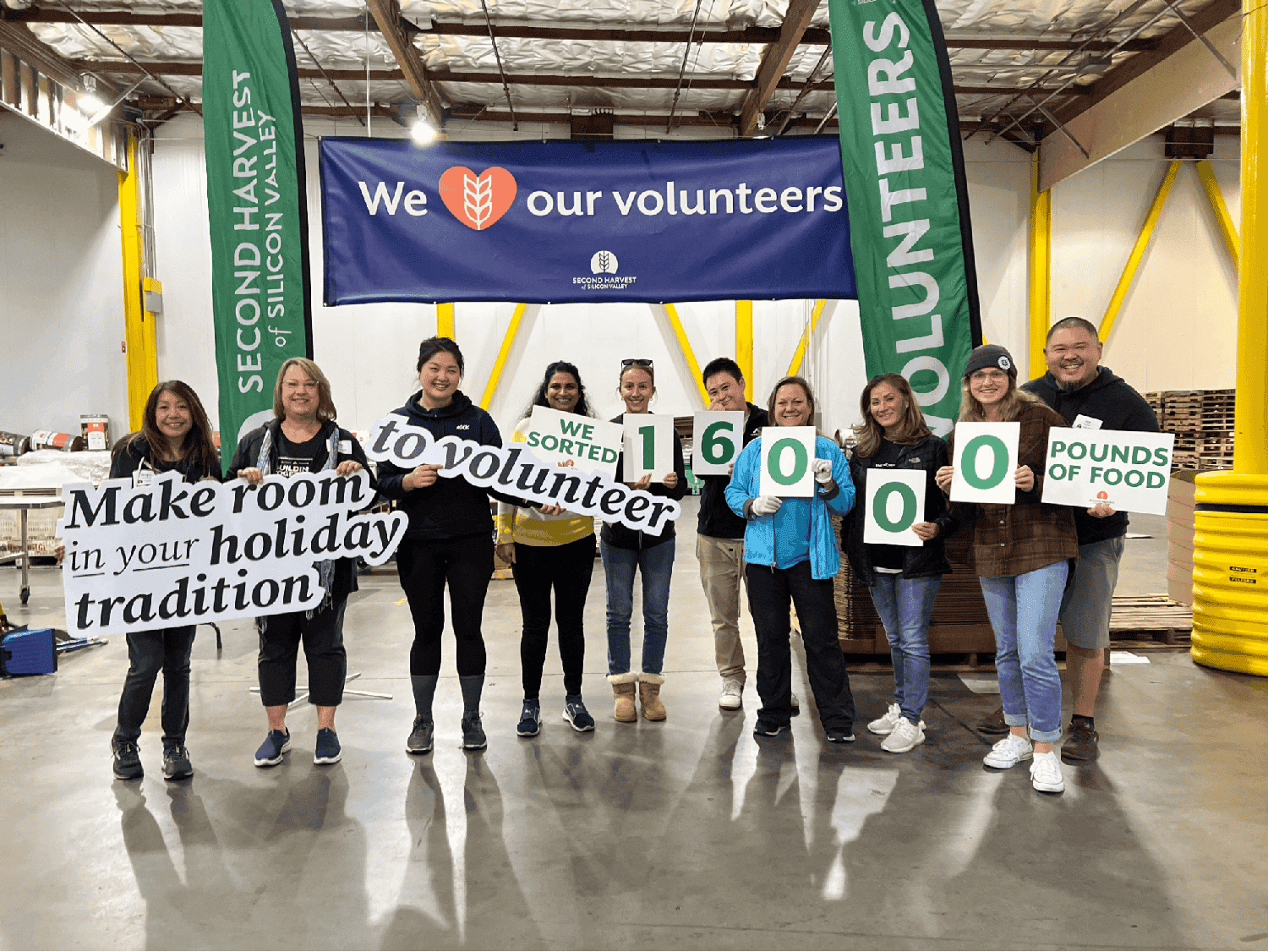 Addepar employees volunteering at Second Harvest Silicon Valley in San Jose, California.
Learn more about how Addepar can enable you to spend more time delivering value to your clients
About Addepar
Addepar is a software and data platform that is purpose-built for professional wealth, investment and asset management firms to deliver outstanding results for their clients. We're helping our clients unlock the power and possibility of more informed, data-driven investing and advice. Our platform was created to empower investment managers to make data-driven and more confident investment decisions, and to clearly see how assets are performing and where they might be exposed. Most recently, we've expanded our capabilities to include Navigator for scenario modeling and AdvisorPeak Trading & Rebalancing to address portfolio drift.
*Marketplace and its brokerage services provided by Acervus Securities, an Addepar company and SEC-registered broker-dealer and member FINRA/SIPC. This article, and any attachments, is not an offer, or solicitation of an offer, to buy or sell any security or other product.